Captain Jack summed up the thoughts of all us original Dallas fans: "It's like when your favourite old band gets back together. You really want it to be good, but there's the risk it could be Just Rubbish."
Channel 5 have obviously invested heavily in the newly revamped Texan saga which starts next week, so it was a no-brainer to send ultimate fan John Barrowman off to go behind the scenes of the new show.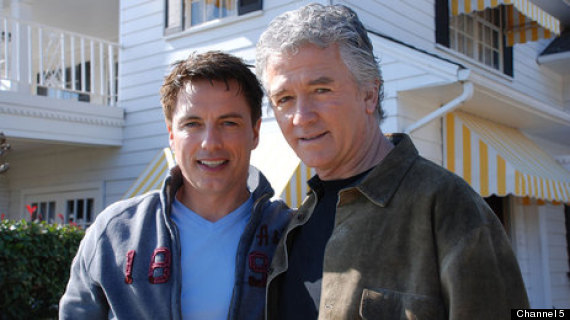 John Barrowman with his childhood crush, Bobby Ewing aka Patrick Duffy
And judging by his hammy reaction to watching the first episode – did he mention he's the number one fan… again? – we viewing veterans have nothing to worry about.
Barrowman tipped his big hat to the new folk. He learned to ride a horse with Desperate Housewives dreamboat Jesse Metcalf, drafted in to play Christopher Ewing. And he took a few rifle shots with the two young female stars, Jordana Brewster and Julie Gonzalo, possibly the only people with hair more gleaming than Barrowman's.
But we were really tuning in to see the old gang and they didn't disappoint.
Linda Gray looked better than she did when she was crowned Miss Texas 30 years ago, and proved what a good actress she was as the neurotic Swellin'. In fact, she was the most chilled out, flirtatious lady on the block, giving the young gals a run for their dollars in the glamour stakes as she decked Barrowman out in boots and hat, and practised quivering her lip.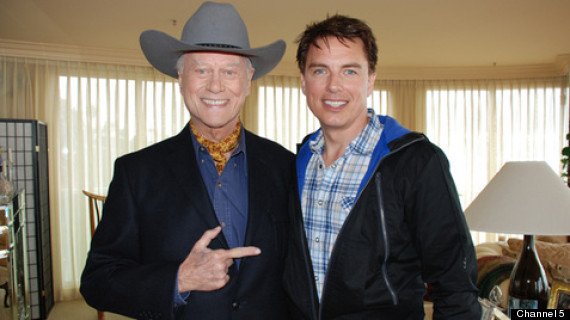 John Barrowman with his ultimate hero, JR Ewing aka actor Larry Hagman
Barrowman was hopelessly stage-struck by the whole thing, especially meeting his childhood crush Patrick Duffy, and informing him that he would become a 'DILF' this time around.
It culminated in a trip to Malibu to visit the fragile but still mischievous, chuckling Larry Hagman and check out his hundreds of hats. Barrowman tried to call him to account for his treatment of Sue Ellen, but Hagman was having none of it, "She wasn't all peaches and cream, that girl."
The rest of the time saw Barrowman's enthusiasm verging on gushing, and almost nakedly auditioning for a role in the second series. Go on, make a man happy, oil barons.
It felt weird, though, when he made his way to Southfork, to be welcomed, not by Miss Ellie, but by new face, fellow Desperate Housewives alumna Brenda Strong, as Bobby's third wife, Anne.
She told the best story of the day, though, describing her entrée to the gang, when everyone went round the table giving their name and character. When it came to JR Ewing, he said simply, "Larry Hagman. Icon."
Bring it on.
Check out the trailer below, and here are the stars new and old in London...
Dallas 2012 London Launch