"My daughter's not the sort of girl to get overly Spooked," Martin Clunes announced soon into this family thriller - unlike the rest of us, getting the bookend talents of two of the BBC's former security agents in Hermione Norris and Nicola Walker. All we needed was Harry Pearce to sort out all this nonsense, and possibly make a phone call to Whitehall.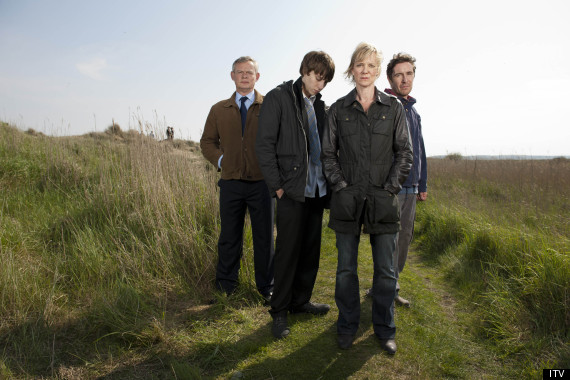 Hermione Norris, Martin Clunes, Paul McGann are the extended family in this ITV drama
Norris arguably got the short straw as Rosie, one half of a freshly-married well-to-do pair (with fellow stalwart Martin Clunes), all Farrow & Ball kitchen paint, idyllic Suffolk coastline and school runs of assorted children.
She didn't seem very happy anyway with this whole Brady bunch set-up, even before she INEXPLICABLY decided to look under her son's bed and found some trainers, which meant OBVIOUSLY he'd probably committed the recent murder of a local schoolgirl.
This sent Norris into an unblinking frenzy of domestic investigation – checking the durations of washing machine spin cycles, no less – and leaning on the narrow shoulders of her bedraggled ex-husband David (a slippery Paul McGann) in their joint agenda to protect young Jamie. Who INEXPLICABLY didn't notice his father bobbing around watching him from behind a pillar even though they were the only people on the beach.
Sadly, this has so far left her fellow Spooks alumna Nicola Walker with little to do as the sensitive investigating DC, except look meaningfully around the crime scene and show lots of intelligent sympathy for the corpse. Hopefully her scope will widen in Tuesday's concluding part, with her understated elegance to balance to counterpart the brittle, rising panic of an on-form Norris, who's perfected this kind of lip-chewing, Lara Croft recast as a yummy-mum type of role, paranoid but ever capable.
And for my money, keep your eye on her strangely uninterested husband. I'm not saying Clunes has been behaving badly, necessarily, just to keep an eye…