The X Factor has pulled in its lowest audience of the series, overnight ratings showed.
It came as Doctor Who returned to BBC1 with a surprise appearance for the Doctor's new assistant Oswin, played by Jenna-Louise Coleman, which saw a slight audience increase on last year's launch episode.
The third edition of ITV1's X Factor pulled in an average of 8.6 million viewers - including viewers watching on the +1 channel - while 8.7 million had watched the first two shows of 2012.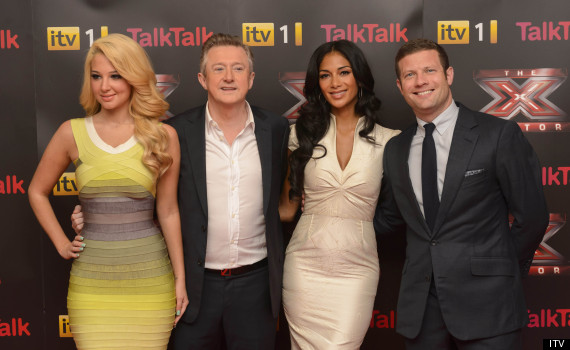 At this stage of the competition in 2011, the programme was consistently pulling in more than 10 million viewers.
The first episode of Doctor Who - which saw a return for the Daleks - drew an average of 6.2 million, which was 200,000 up on the last series when it began in August 2011.
Doctor Who Review: Surprises And Sentiment In 'Asylum Of The Daleks'
Coleman's debut had been kept secret despite a number of preview screenings.
Executive producer and head writer Steven Moffat thanked those who had attended for keeping her appearance a surprise.
"This show has been seen at four separate screenings, across four different countries and yet not one person gave one spoiler," said Moffat, who has been irked by people giving away the plot in the past.
Despite X Factor's performance, ITV1 could take some comfort from the fact it was the highest rating channel during peaktime with an average of 4.6 million viewers between 7pm and 10.30pm. Two editions of gameshow Red Or Black? on the station drew 3.5 million and 3.3 million viewers.