Patrick Duffy has made a personal promise to HuffPost UK that if the new Dallas runs to the same 13 seasons as the original series, viewers will get to watch an alien abduction on Southfork Ranch.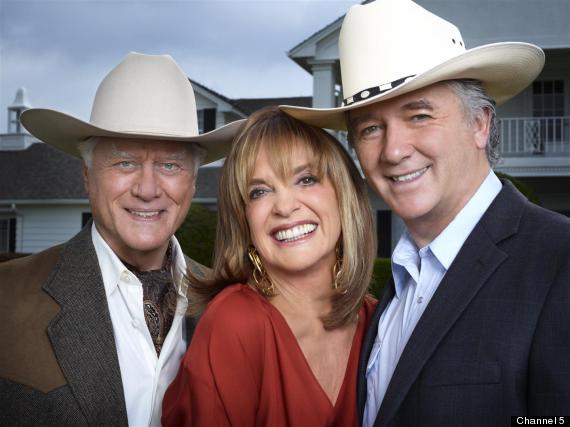 Some familiar faces on Southfork Ranch - all three back for the new series
Asked about the prospect of any outlandish plots to rival the credibility-stretching shower scene where his character Bobby Ewing returns from the dead, he warns, "Easy now... "
And Brenda Strong, Desperate Housewives alumna who plays his third wife Anne, reflects that scriptwriters have plenty to keep them busy, with all the new characters plus the history of the old ones.
The history includes two previous wives for Bobby Ewing - the pneumatic Pamela (Victoria Principal) and pale-eyed beauty Jenna Wade (Priscilla Presley). Was this intimidating?
"I was aware of the challenge of those previous incarnations," explains Strong. "I have a healthy respect for them."
"What's exciting is that the audience sees us for the first time seven years after we've already met, courted and are happily married.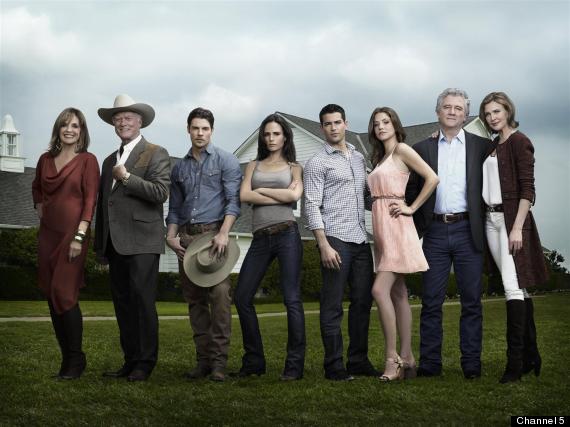 Return to Dallas - 20 years later, and lots of new faces including Brenda Strong (right, with Patrick Duffy)
"So I'm curious to see how we fell in love, and what our story is, and we're hoping that maybe in the second season we'll have an opportunity to flesh out our romance a little bit. It's very strange not to know.
"Apparently Sue Ellen introduced us, because she's a friend of mine, and thought we would be a good match and obviously she was right."
"She was a pole dancer..." suggests Duffy.
FEATURE: 9 Reasons Why Original Dallas Was The Best Thing On TV. Ever.
As Bobby, the wonderfully friendly Duffy has always been the good brother, the long-suffering foil to JR's scheming machinations. Is there a baddy Bobby hiding in there somewhere?
"I think he has normal human traits he'd rather not display, he's not a goody two shoes, but every show has to have somebody that audiences can say, 'well at least he's not screwed up.'"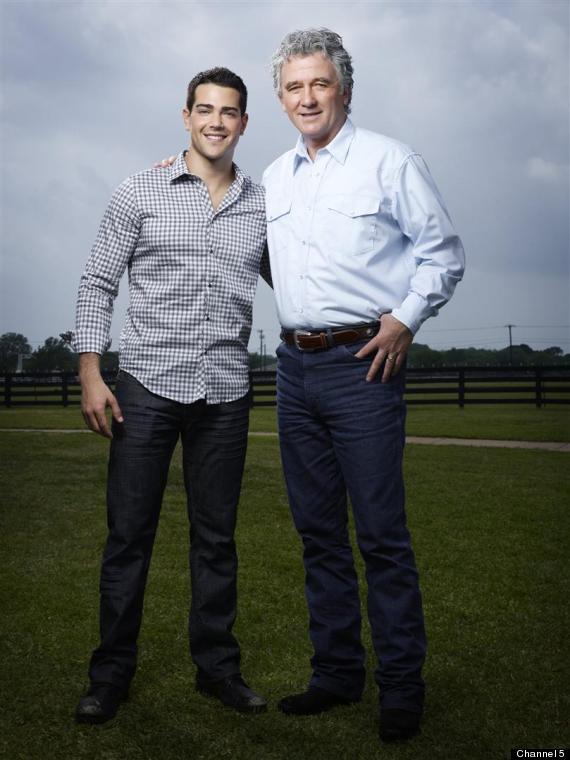 Patrick Duffy with his on-screen son Jesse Metcalfe
It's something Duffy has had fun imparting to the younger generation of actors on the new show, which sees Jesse Metcalfe and Josh Henderson take on the roles of rival cousins Christopher and John Ross Ewing respectively:
"They have the same challenges in playing those parts," explains Duffy. "It's like, 'Do I always have to be the good guy?'
"I want to tell Jesse, 'Yeah, pretty much, that's your job now.'"
DThe original 14-series set is now available on DVD, and the new series kicks off this Wednesday evening at 9pm, Channel 5. Here's Who's Who in the new era...