There may have been no signature moment at this year's MTV Video Music Awards, but there was a signature sound: the screams of teenage girls wild about One Direction.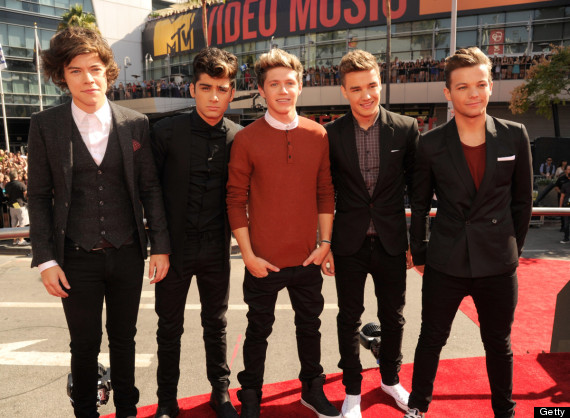 One Direction, stealing the show with aplomb
The British boy-band were the toast of the evening in Los Angeles on Thursday night as they picked up a trio of big trophies for their hit What Makes You Beautiful.
The British hunks, who also performed at the ceremony, picked up their first ever VMA just before the event officially started when the promo for their track was voted Most Share-Worthy Video by fans.
One Direction At The VMA's
The quintet went on to win Best New Artist and Best Pop Video as well.
Rihanna kicked off things with a spicy performance to open the show, then ended it by taking the show's top honour, video of the year, for her steamy hit We Found Love.
She wore a figure-hugging, elegant scoop-backed white dress before changing into a flowing red outfit for her medley of new single Cockiness (I Love It) with rapper A$AP Rocky and We Found Love.
The camera returned to the pop star often - except when it was on One Direction, which provided the night's most screamed-over performance.
"We've grown up watching this show and to even be here is an honour," Niall Horan said from the stage.
The quintet seemed stunned as fans screamed upon announcement of their win. The group performed later, rising to a stairwell surrounded by screaming, reaching female fans on an elevated platform and bringing most attendees to their feet.
"This has been unbelievable," Harry Styles said backstage. "This was our favourite performance we've ever done. For us to be here in the first place is amazing, and to perform and win a Moonman is amazing."
Chris Brown pulled off something of an upset in the best male video category. Rihanna's former boyfriend won for his self-directed video Turn Up The Music, beating out several top stars, including Drake, who tied Rihanna for most nominations with five. Brown also won for best cinematography.
Drake was at the podium minutes later when his HYFR collaboration with label boss Lil Wayne landed him the Best Hip Hop Video trophy.
Calvin Harris was also a big winner on the night - not only was he booked as the event's house DJ, but he also collected two MTV Moonmen trophies for Best Electronic Dance Music Video (Feel So Close) and a share of the Video of the Year prize with Rihanna for We Found Love.
COMPLETE LIST OF WINNERS BELOW
One Direction At The VMA's
The main list of winners is:
Best Video with a Message - Skyscraper by Demi Lovato
Most Share-Worthy Video - What Makes You Beautiful by One Direction
Best Pop Video - What Makes You Beautiful by One Direction
Best Male Video - Turn up the Music by Chris Brown
Best Hip Hop Video - HYFR by Drake feat. Lil Wayne
Best Female Video - Starships by Nicki Minaj
Best New Artist - What Makes You Beautiful by One Direction
Video of the Year - We Found Love by Rihanna feat. Calvin Harris
Best Electronic Dance Music Video - Feel So Close by Calvin Harris
Best Rock Video - Paradise by Coldplay