You know the traditional wedding moment when the best man gets in a complete panic because he thinks he's forgotten the ring? Well, that's not what happened to Matt Aubrey.
Matt - who took on the best man role at his brother Lewis's recent nuptials in Redhill, Surrey - had remembered the ring, no problem. The drama came when he dropped it in the church - and it promptly disappeared from view.
"The vicar had just started the service when all of a sudden, I heard this ping," bridesmaid Kelly Love (what an apt surname!) told the Daily Mail. "The vicar turned to Matt and said, 'Yes'. At that point, all eyes turned to the floor.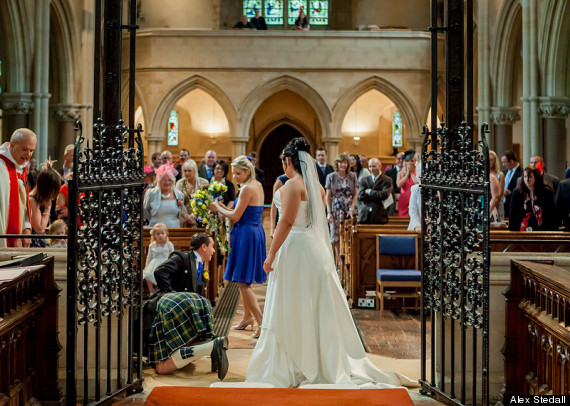 "We thought we would find it quickly and get on with the ceremony. But the more that time went by, the more people came from the congregation to look. There were ushers lying on the floor, people lifting up carpets."
And it gets worse! According to the Daily Telegraph, Matt even allowed people to rummage through his sporran in the desperate search for the missing jewellery. That really is the stuff of nightmares.
But don't worry, folks! When the ring failed to materialise after 10 minutes, the bride's mum stepped in and offered her own wedding band so the service could still go ahead. Phew!
And there was even better news when the concerned vicar returned to the church later in the evening. Having spent another two hours searching, Reverend Nicholas Calver eventually found the ring, lodged in a tiny crack between the step up to the altar and the floor. Hurrah!
"I took it down to the reception and the best man was standing outside," the vicar told reporters. "I poked him in the ribs and said, 'You owe me a drink.' He was overjoyed."