Henrik Ibsen's conflicted protagonist is known as the 'female Hamlet', so the big question in Anna Mackmin's production is what kind of Hedda Sheridan Smith - the Olivier-award winning star of such saccharine productions as musical Legally Blonde and TV's Two Pints Of Lager And A Packet Of Crisps - would make.
The answer is thoroughly unlikeable one - but then she's meant to be.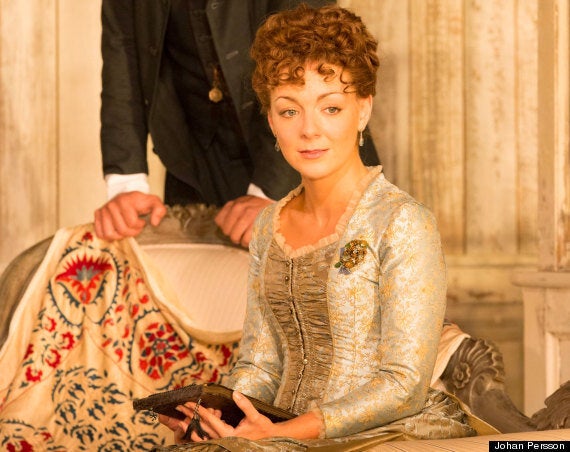 Sheridan Smith as Hedda Gabler
The Norwegian realist play - which horrified audiences when it debuted in 1891 and started an unwitting feminist revolution - is staged in a series of opulent glass walls in this new production: an extravagant house that traps the scheming and manipulative Hedda as much as her marriage.
We're not prevented, however, from feeling the smallest twinge of pity for her as she opens up to Judge Brack (rakishly played by Darrell D'Silva) about the malicious feelings which "possess" her, due to the confines of her dull life and overbearing in-laws.
Gracefully prowling around the stage with a permanent smile, Smith is viciously sweet. As she delivers icy barbs and clenches her fists, we see a woman fuelled by the frustrations of a life she has created for herself - yet one without courage or control, qualities she vocally envies in her supporting actress, the anxious but intellectually-determined Thea Elvsted (Fenella Woolgar). By the second act Smith is pacing in her glass cage, switching maniacally from tears to glee as her macabre plans to bring down the people around her unfold.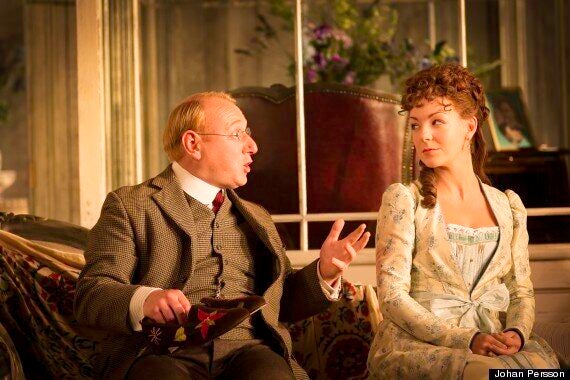 Adrian Scarborough (George Tesman) and Sheridan Smith (Hedda Gabler)
Meanwhile, her unwitting husband, George (Olivier Award-winning Adrian Scarborough) remains full of affection for the women in his life. Brian Friel, the man responsible for adapting Hendrik Ibsen's script, imagines George as a camp, slipper-obsessed buffoon, and while his hysterical dreams for the future often bring the house down, it's an interpretation of the character that feels a little reductive, despite Scarborough making the most of the role.
So yes, Smith successfully follows in the footsteps of Maggie Smith, Rosamund Pike and Cate Blanchett in taking on Hedda. But it's the rest of Director Anna Mackmin's cast that allow her demise to retain the play's 19th century shock, notably Woolgar, whose final exit makes a remarkable statement about female empowerment. This re-invention of the classic play is a sassy, clever group effort. While we Friel may have cost us some of Ibsen's, it remains a production that burns as brightly as the fateful stove at its center.
Hedda Gabler is at The Old Vic, London, 5 Sep 2012 - 10 Nov 2012.
Related