More than 4,000 demonstrators chanting "death to America" have reportedly stormed the US embassy in Yemen, as demonstrations against an anti-Islam film posted on YouTube spread across the Middle East.
AP reported that one person had been killed after police opened fire on protesters.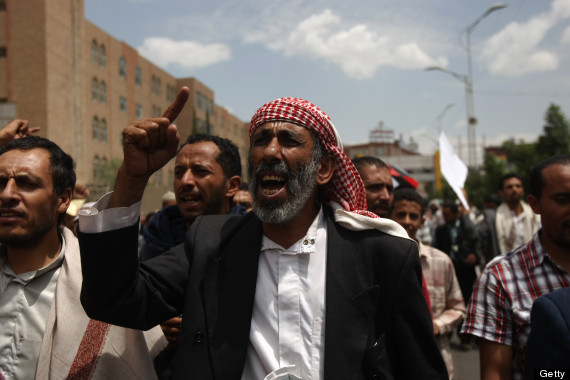 A Yemeni protestor chants slogans during a demonstration in the capital, Sana'a
Demonstrators entered the compound in the capital Sana'a on Thursday, AP reported, but did not gain access to the main house.
A US sign outside the consulate was removed, the US flag was burned and tires were set alight.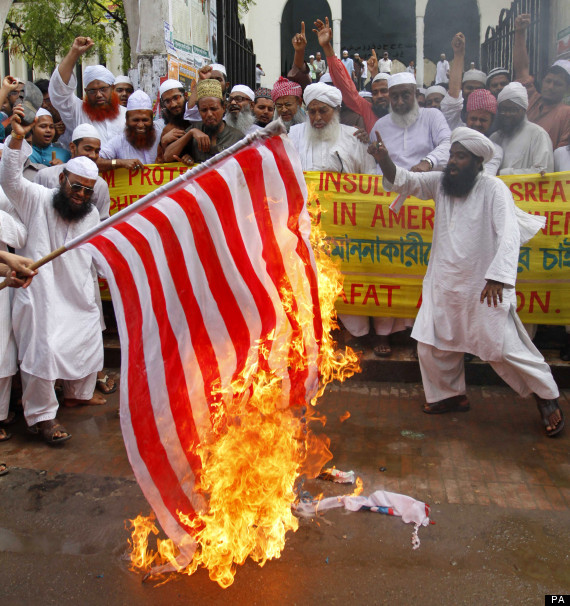 A US flag was also burnt during a protest in Dhaka, Bangladesh
Mohammed Albasha, Yemen's spokesman in Washington, said the situation was now under control and peace had been restored.
In a statement posted on Twitter, he said: "I would like to reiterate the Government of Yemen's strong condemnation on the attack on the U.S. Embassy compound in Sana'a.
"The Government of Yemen condemns any and all acts of violence against diplomatic personnel and facilities and will honor obligations to ensure the safety of diplomats and will step up security presence around embassies. Fortunately no casualties were reported.
"Some thugs that infiltrated the protesters today and looted US property and burnt SUVs.
"Riot police used tear gas & water cannons to disperse protesters. No live ammo was fired."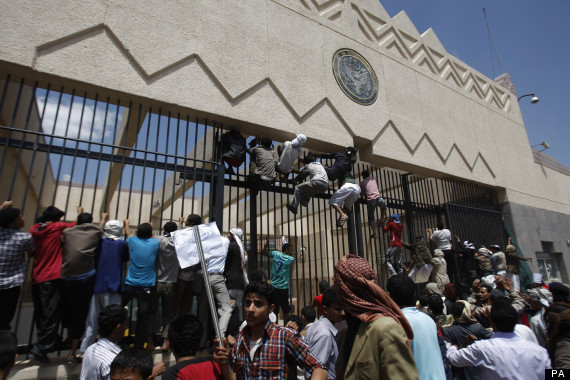 Demonstrators storm the gates of the embassy on Thursday
Embassy staff have been moved to a safe location. Protests against a film The Innocence Of Muslims that apparently depicted the Prophet Muhammad as a homosexual have also spread to Iran, Tunisia and the Gaza Strip.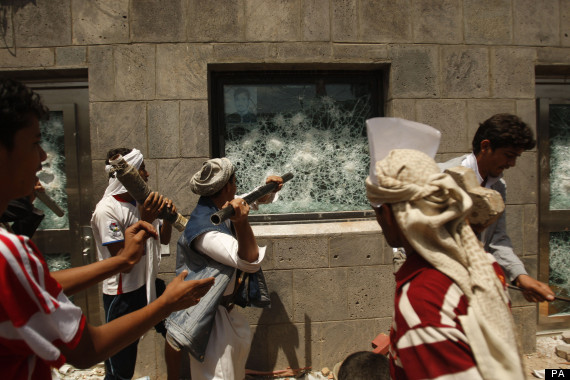 Protesters smash windows around the compound
The Libyan Muslims Brotherhood said that they "vehemently condemn the attack" but urged western governments to take tougher line on those who insult to Islam.
An AFP photographer said around 500 people demonstrated near the Swiss embassy, which represents American interests in Iran, in the capital Tehran, chanting "Death to America, while American flags were reportedly burned outside the US embassy in Tunisia.
In Gaza City a small crowd also held a demonstration, Al Jazeera reported.
Clashes between protesters and security forces have broken out in Cairo outside the US embassy, injuring around 13 people, according to reports.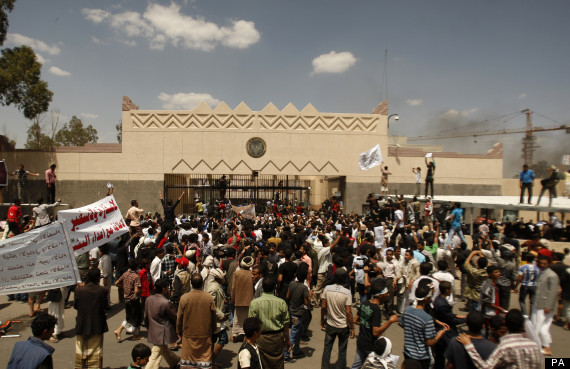 The compound under siege in Sana'a
Egypt's president, Mohamed Morsi, has condemned the anti-Islam film and the subsequent attacks.
"We Egyptians reject any kind of assault or insult against our prophet. I condemn and oppose all who... insult our prophet," the president said during a visit to Brussels.
Mystery surrounds the creator of the film, originally named as 'Sam Bacile', whose real identity is not know, while reports have also surfaced that actors were told the film was about a character called 'Master George'.
The attacks started in Egypt after local news organisations highlighted the film. Egyptians stormed the US Embassy in Cairo, replacing the US flag with one bearing an Islamic slogan.
The violence then fanned to Libya, with a raid on the US Embassy in the eastern town of Benghazi leaving four US officials dead, including the US Ambassador, Chris Stevens. Ten Libyans were reported to have been killed or wounded defending the compound. Since then a US flag was also burnt during a protest in Dhaka, Bangladesh.
Mursi has since pledged to protect foreigners in Egypt and said he had spoke to US President Barack Obama on Thursday: "I affirmed to him the need for deterrent legal measures against those who want to damage relations between peoples, and particularly between the people of Egypt and the people of America."
Blogging for the Huffington Post UK on Thursday, Dr Usama Hasan, an Islamic scholar, called for Muslims to "ignore material insulting and offensive to Islam".
SEE ALSO