Did you ever think 100 characters' lives could fit into one hour and 40 minutes of theatre?
Playwright Caryl Churchill's latest venture at the Royal Court Theatre is Love and Information: scene-after-scene of self-contained snapshots of conversation, in a slick stream of consciousness – dozens of short and punchy postcards of British life.
The cast of 16 deliver over 100 roles in a confident and self-assured production, holding the audience's attention through a journey of 58 scenes in seven sections.
A chick-killing picnic date, a secret that is dared told, a pianist with amnesia, the child who doesn't know pain, schizophrenia, a Facebook user with insomnia. Curious and intriguing scenarios that examine relationships with tight dialogue, where nothing is wasted.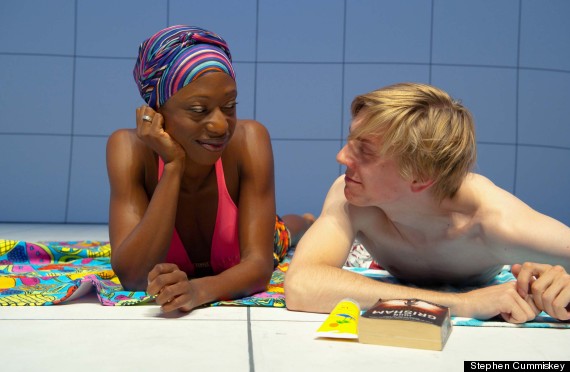 Sex - Nikki Amuka-Bird, and Joshua James.
Churchill has a long-running relationship with the Royal Court since her first play at the theatre, Owners, in 1972. Well-known for her 1982 social comment Top Girls, in which five famous women from history dine together, Churchill has become one of the UK's most influential playwrights.
However, Love and Information's success is only partly down to the succinct and thought-provoking script – director James Macdonald has taken a gift of a play, with dialogue that is open to huge interpretation, and has run with it.
We are pulled from one set of lives, to another, in mere minutes. The stage is small and simple; bare walls, like an enclosed room, or a padded cell. Scene transitions take seconds, as swift stagehands and nimble actors move quickly behind the curtain. It is TV channel hopping in the theatre.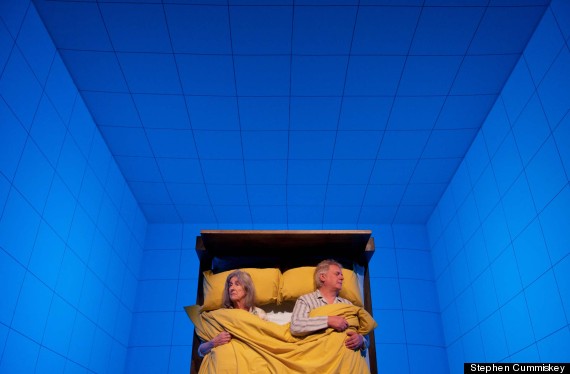 Sleep - Susan Engel and Paul Jesson.
Scenarios are brought to life with hints from costume and props that give us a world of information. In one scene we hear a monologue about The Child Who Didn't Know Fear - there is a dejected ballerina, slumped by the speaker's side – does she have stage fright? Is the man comforting her with a tale?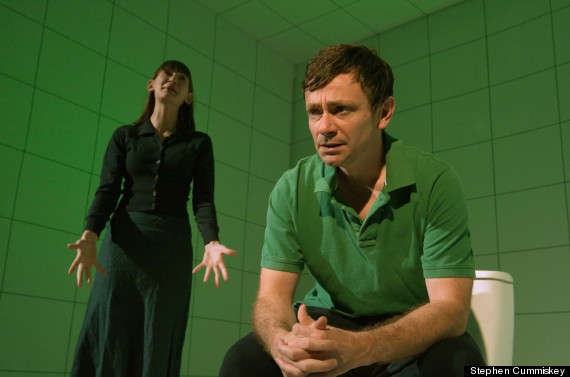 Wife - Laura Elphinstone, Justin Salinger.
A scene entitled DEPRESSION is present in all seven sections, exploring the tragedy of destructive mental illness. Despite this, the lighter subjects provide pure comedy - I have rarely heard a theatre audience laugh so much and so often.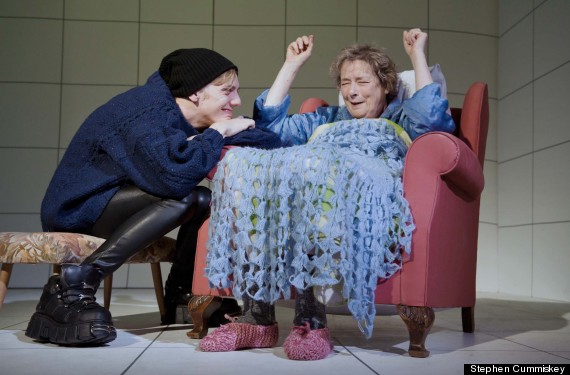 Fate - Joshua James, Linda Bassett.
Love and Information could be criticised for being a gimmick - a series of incoherent sketches – the culmination of Churchill's notebook of ideas, thrown together.
But the form of the play speaks volumes about the fast turnover of modern life – our jobs, our homes, relationships, media – a pervading sense of impermanence many people feel.
Churchill embraces this speed – in the fast-moving traffic of life there are still quiet moments of beauty, heart wrenching sorrow, joy, and profound epiphanies.
Love and Information is running at the Royal Court Theatre, London, 6 Sep - 13 Oct 2012.
Watch the trailer:
Take a look at all of HuffPost UK's theatre reviews: