Hannover have lodged an appeal against the red card shown to their midfielder Szabolcs Huszti at the end of Saturday's 3-2 win over Werder Bremen in the Bundesliga.
The Hungarian was shown two yellow cards after scoring the winning goal in a dramatic game, first for removing his shirt and second for climbing on the perimeter fencing in front of his side's fans.
The consequent red card means he is set to miss Hannover's match against Hoffenheim next weekend, but his club feel he has been punished twice in one go without receiving any advanced warning.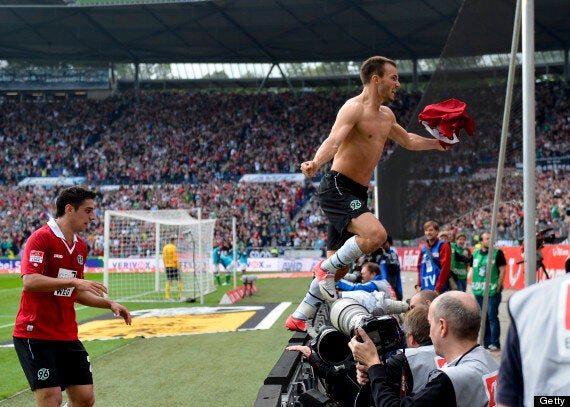 Huszti earned his first yellow card for removing his shirt...
"After consulting with our solicitors, we have decided to lodge an appeal," said Hannover's director of sport Jorg Schmadtke.
"We feel it is not permitted to punish two incidents in one go since Huszti was not actually warned or cautioned by the first yellow card.
"Our appeal has the aim of lifting the second yellow card so that only one yellow card goes down in the statistics."
Huszti has had a hand in Hannover's last seven goals, scoring three and creating four of them.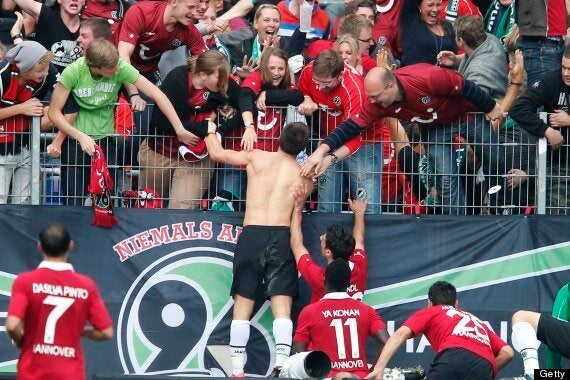 And his second for climbing the perimeter
His dismissal brought widespread condemnation, with referee Deniz Aytekin himself admitting his regret at being forced to send him off due to the letter of the law which Hannover are now contesting.
"There has been a lot of clamour and discussion among the fans and the media that we are also keen on clearing this up for the future," added Schmadtke in a statement.