"Knowing what I know about crime is already scary enough. Cyber crime is extra scary because it's a faceless person," says CSI creator Anthony E. Zuiker.
Speaking to The Huffington Post UK from a hotel in Paris, Zuiker explains: "It's very hard to catch these criminals and extremely hard to convict them. They can do a lot of damage behind closed dors with laptops. It's a very dangerous generation we're stepping into.
"It's not necessarily weapons of mass destruction but weapons of mass disruption that can be very dangerous."
Zuiker should know, after being the mastermind of crime drama franchise CSI, which uses cutting-edge forensic tools to examine evidence, for over 12 years he's pretty much seen it all.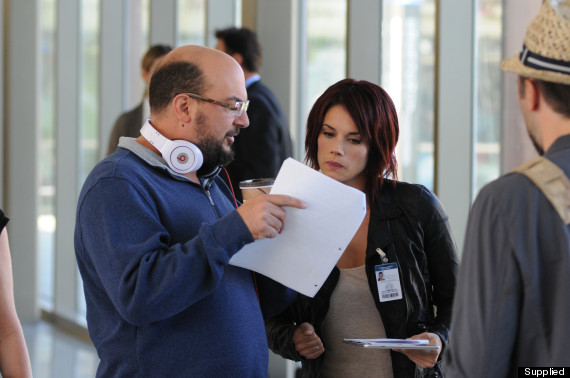 Zuiker with his Cybergeddon cast
Now Zuiker has branched out to create an online series, Cybergeddon, about the growing threat of cybercrime, starring Olivier Martinez (Unfaithful) and Missy Peregrym (Rookie Blue).
The series, which will air in over 25 countries and 10 languages on Yahoo! in a series of nine digital chapters – three per day, over the course of three consecutive days - follows the story of agent Chloe Jocelyn (Peregrym) as she investigates a slew of seemingly unrelated cyberattacks with fellow agent Frank Parker (Manny Montana) and incarcerated master hacker Chase 'Rabbit' Rosen (Kick Gurry). The worldwide cybercrime ring is led by Gustov Dobreff (Martinez).
The show's blurb reads: "In a world where everyone is connected, everyone is at risk," a point that Zuiker is only too aware of after speaking to hackers during his research for the series.
"They have nothing but horror stories, so it's pretty scary," he warns.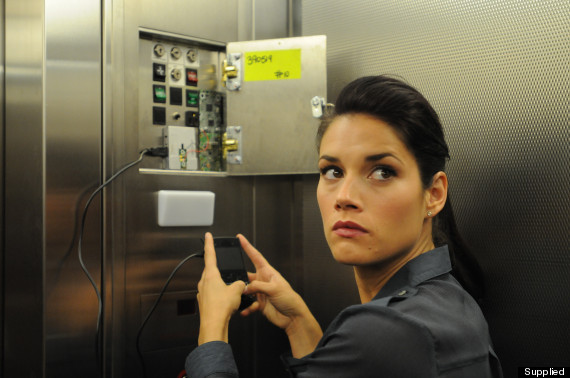 Missy Peregrym in Cybergeddon
"In Bulgaria they're buying lots of computers on the black market, 3,000 at a time, to intercept information. For things like hacking into your computer camera to watch you at home, taking 3 cent a day out of your bank account, which you won't detect - this is a real problem.
"I think the scariest one was a phone call from a bank that wanted you to give them information to take you off of a security alert, once you have it says your account has been closed and it's OK now, but it's actually a hacker. There's a lot of stuff like that," he adds ominously.
Zuiker has become ever more careful about his own computer use: "You can start with having proper network hygiene and doing updates and not making the mistake of using the same passwords."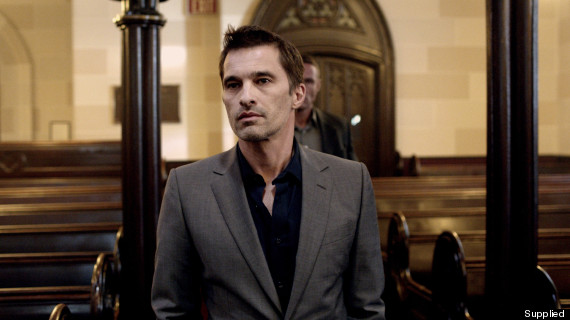 Olivier Martinez in Cybergeddon
He says the idea for the show came about a couple of years ago after travelling to Washington, D.C, where he did a lot of research on cybercrime.
"I felt like with my background with CSI that cybercrime would be appropriate. We took cybercrime and the theory of a big blockbuster called Armageddon and smashed the two together to get Cybergeddon," he explains.
So why has Zuiker - with a proven track record for creating a hit show - chosen to make the drama online rather than for TV or cinemas?
"I wanted it to have an online experience beyond just a movie, to have an interactive experience on the site such as clips about characters, how-to content and behind the scenes content.
"We were able to shoot a movie in May, air it in September in 25 different countries and 10 languages and we have an aim to have half a billion hits. This seemed a lot more exciting than just putting a movie in a theatre."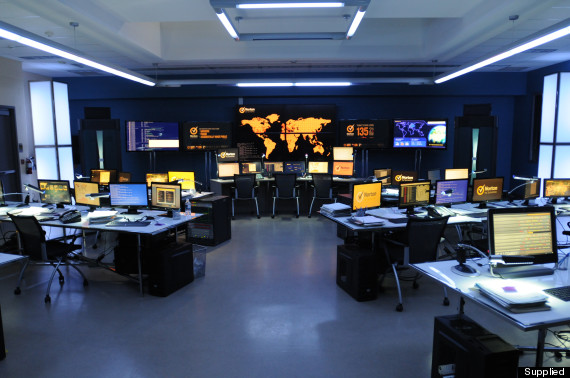 Re-creation of Norton Security Operations Center
But this new format didn't come without challenges...
"We had to do a motion picture that had a beginning, middle and end and had a cliff-hanger every 10 minutes.
"Trying to get it launched in all the countries at the same time felt more like working on four or five films at the same time. We've pulled it off rather successfully, we're on time and on budget."
I ask Zuiker if the $6m project financed by the likes of Dolphin, Yahoo and Norton, was a nice break from CSI: "There was no break. It was a different challenge, there was a lot more brain power that went into this initial launch... including how to stay on budget."
Zuiker, who was working as a tram driver in Los Angeles when he came up with the original idea for CSI, says fans of the long-running show will notice similarities between it and Cybergeddon.
"Everything from the concept, to the re-writes, to the casting, to the look, to the pace, to the vision - all that is pretty clear an experience."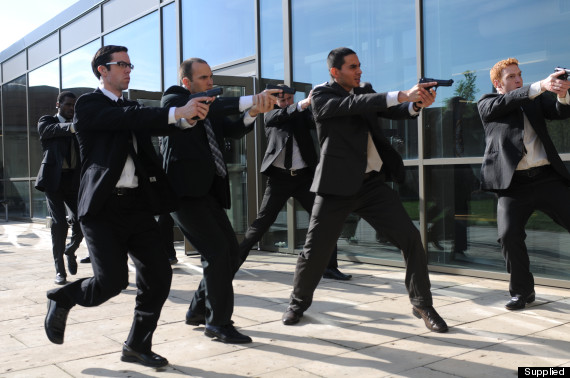 Manny Montana in Cybergeddon
However, as far as Zuiker is concerned we won't recognise the TV industry "in 5 years, let alone 10." Tom Hanks, Ricky Gervais and Lisa Kudrow are just some famous names who've already branched into digital TV.
"Will prescheduled programming ever go away? Possibly not, but it seems a bit archaic. We're beginning to see the end of that going forwards.
"I think television to survive will probably have to embrace the computer at some point and be an interactive mechanism also, but still the predominant screen in the household...
"Cybergeddon is just the beginning to let people know things can be done a difffernt way, with a deeper experience and with far more convenience."
Cybergeddon will premiere worldwide 25 September on Yahoo!