Liverpool captain Steven Gerrard has claimed team-mate Luis Suárez is denied "blatant penalties" due to his reputation.
Suárez was booked 10 days ago for an act of simulation during the Reds' 1-1 draw at Sunderland and has previously been cautioned by referees for dramatically falling to ground.
The Uruguayan was denied a penalty against Manchester United on Sunday even though Jonny Evans appeared to kick his boot first ahead of playing the ball. Sky Sports pundits Gary Neville and Jamie Redknapp were in unison that Suárez's dramatic reaction to the Northern Irishman's challenge influenced referee Mark Halsey's decision.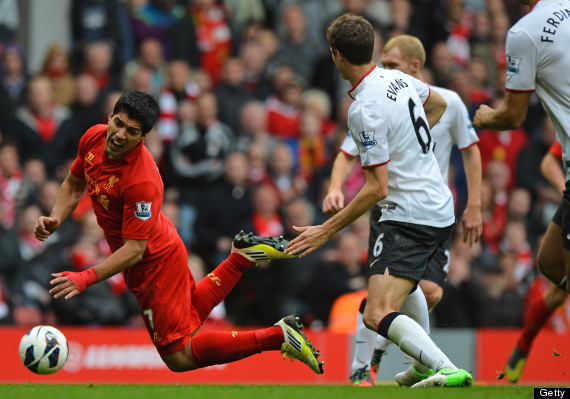 Suárez is denied a penalty on Sunday
However Gerrard, who has committed dives on numerous occasions, is adamant he has been scapegoated.
"I think even when Luis does get blatant penalties now he doesn't get them," the 32-year-old said via PA.
"It is down to referees to not judge him and give what they see - if it's not a penalty don't give him one but if it's clear give it. It's only fair.
"He was booked at Sunderland but against United it was a penalty."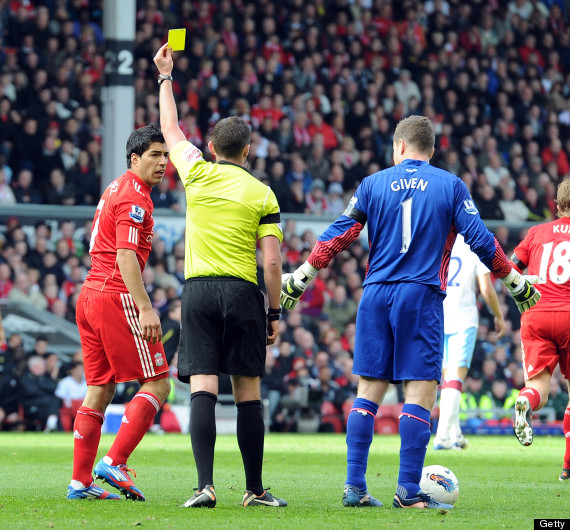 Suárez is booked for diving against Aston Villa last season
Team-mate Glen Johnson seemed to accept Suárez's antics but was adamant his challenge on United winger Antonio Valencia was not a penalty.
Johnson's foul afforded Robin van Persie the opportunity to score the resultant spotkick and seal the Red Devils' first win at Anfield since December 2007.
"Reputations go in front of people at times and because Valencia is not a known diver that is why he got the decision," Johnson explained.
"I almost guarantee if it was exactly the same situation and it was Luis and not Valencia then it wouldn't be a penalty."
Johnson himself appeared to commit a dive during Sunday's fixture but was not cautioned by Halsey.