In three generations, the Mills family made their mark on the London stage, Hollywood, literature, the small screen, the pop charts and even appearing with a Mule.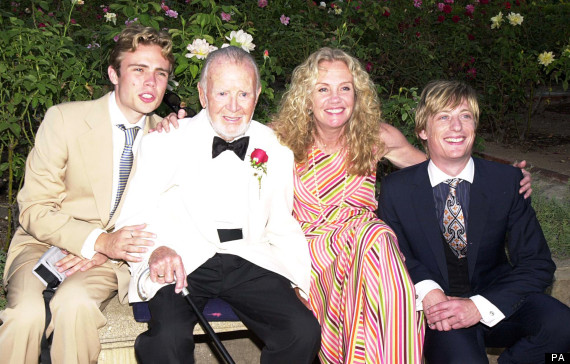 Sir John Mills with Hayley and her sons Crispian and Joe
It all started with John Mills, a headmaster's son from Norfolk, who was on the London stage by his early twenties. After his memorable turn in David Lean's Great Expectations, his face became a familiar one during a series of noble war-inspired dramas, including In Which We Serve, The Colditz Story and Ice Cold in Alex.
He earned an Oscar for his unrecognisable role as the village idiot in Ryan's Daughter (1970) and, in all, he appeared in more than 120 films, working until he was into his nineties.
Mills' sister Annette was a performer in her own right, and showed off the family's versatility, dancing alongside Muffin the Mule on TV.
And his wife Mary Hayley Bell, whom he met while he was on tour, was no small shakes in the creative department either - appearing on Broadway in the play Volpone n 1928, and again on stage three decades later. As well as appearing in a few films, she wrote several plays herself, and the novel Whistle Down the Wind.
The couple, popular with their acting friends including Noel Coward and the Attenboroughs, had three children, Juliet, Hayley and Jonathan. While Jonathan has stayed behind the lens as a film producer and writer, Juliet and Hayley's faces both became famous on the big screen from an early age.
Juliet started young, playing a baby in her father's film In Which We Serve. She won a Tony Award on Broadway, before she moved to TV, where she won a Golden Globe for Nanny and the Professor, and then an Emmy for QB VII.
She is married to the actor Maxwell Caulfield, best known for such outings as Grease 2 on the big screen and as Miles in The Colbys on the little one.
Meanwhile, Hayley became one of the world's most famous child stars, after appearing alongside her father in Tiger Bay, in the film of her mother's book, Whistle Down The Wind and, most memorably of all, in the dual roles of Sharon and Susan in The Parent Trap (original version). She became one of Disney's most popular screen properties, and was the last child actor to collect the special juvenile Oscar for Pollyanna, aged 12. Her recent work has been mostly on TV.
Hayley married Roy Boulting in 1971, and had one son, Crispian. And that could have been the end of show business line, except…
The creative blood continued to flow, with Crispian picking up a guitar as a teenager, and penning some tunes. Before long, influenced by his mother's involvement with Hare Krishna, he was at the helm of the band Kula Shaker, which went on to hit the top of the British music charts with their album K, and enjoyed big single sellers with Govinda and Hush.
Crispian was last seen directing the film The Fantastic Fear of Everything, starring Simon Pegg, who said of his director's debut: "It was clear Crispian had a clear vision," an instinct undoubtably honed by a lifetime of watching his family and family friends exhibiting their talents.