A new wave of entrepreneurial ventures are breathing life back into Britain's high streets with cupcake shops and vintage fashion boutiques leading the way.
Data from business software company Sage has revealed 20% of those planning to start a new business will open a retail shop on the high street.
And that number rises to nearly half (47%) when considering those planning on launching a service business, such as accountants, printers or hair dressers.
The YouGov study surveyed 3,320 people and found that a quarter of Brits want to start their own business and that most of them wanted to work in retail.
Service operations for businesses, such as accountancy and the personal services sector, such as plumbing and beauty was the next most popular.
Studies on shop closures have shown the north-east of England was the area hardest hit, with 15% of retailers closing, but Sage's research suggested things were looking up for the region, as it had the highest number of people planning on starting a business compared with the rest of the UK.
Infographic showing rising numbers of entrepreneurs by region Source: Sage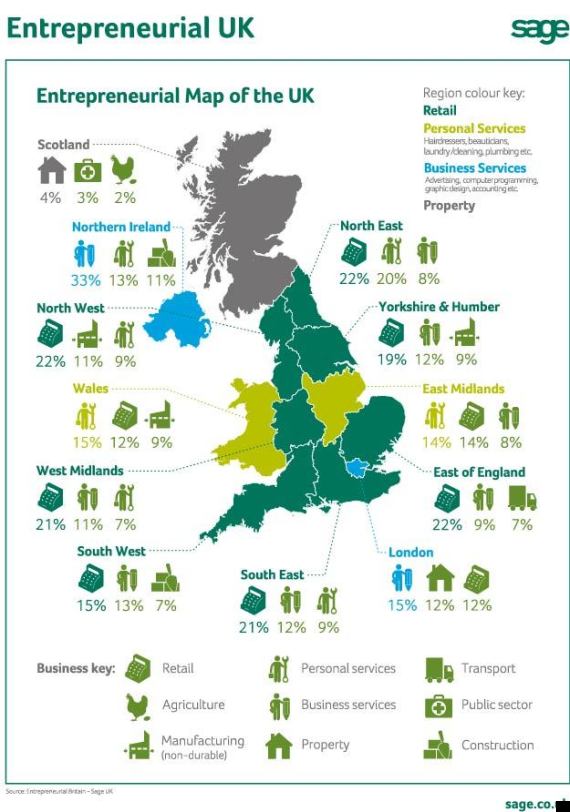 Interestingly, the next generation of entrepreneurs, those aged 18-24 years old, are drawn to bricks as much as clicks when it comes to setting up a business, with 52% wanting to launch their business with a physical shop.
Lee Perkins, managing director for Sage's small business division, said the results were even more surprising given the recent success of online firms such as Amazon and Facebook.
"Everyone has business potential and it is encouraging to see so many people set to launch a new venture in the next couple of years. Whether it's the Mary Portas effect or not, without doubt, there is hope for the UK high street," he added.
The news arrives on the back survey results from the Confederation of British Industry, which showed retail sales rose modestly in September.
Supermarkets, shoe shops and chemists saw a strong improvement of sales, while retailers selling recreational goods as well as hardware and DIY stores continued to suffer.
British retail sales volumes rose by 0.6% in the three months to August, according to Office for National Statistics data published last week, but overall demand is sluggish as wage growth lags behind inflation.