Lewis Hamilton will leave McLaren at the end of the current Formula One season to race for Mercedes next year.
The 2008 champion will replace F1 legend Michael Schumacher while Sauber driver Sergio Perez will become Hamilton's successor at McLaren.
Schumacher's future is now subject to conjecture and it is unclear whether the German will, at 43, retire for a second time.
Mercedes have struggled in F1 since their comeback in 2010 after they bought the entire Brawn team, who Jenson Button raced to victory the previous year. Hamilton's signing represents a major coup, though.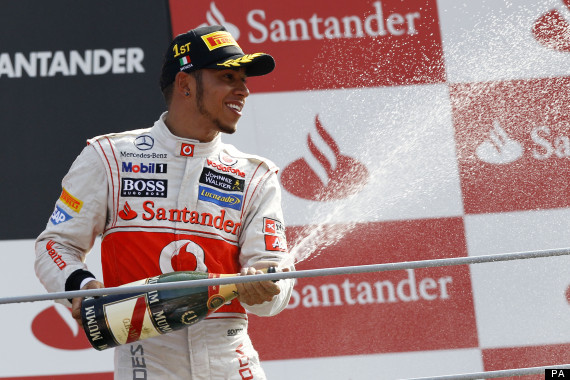 Hamilton celebrates his Italian GP win in September
The 27-year-old has been with McLaren since he was 13, having famously approached team principal Ron Dennis at the Autosport Awards ceremony and told him, "I want to race for you one day ... I want to race for McLaren." Less than three years later McLaren and Mercedes-Benz signed the Stevenage-born teenager to their Young Driver Support Programme.
Hamilton is expected to earn the same £60m annual wages as he currently reaps with McLaren, but from a competitive perspective he will be Mercedes' unequivocal number one driver, whereas he arguably shares joint duties with Button.
There is also the scope for greater freedom in regards to personal endorsements at Mercedes since he is bound by a deal with Hugo Boss.
Another blow to McLaren is that they will have to pay for their engine supplies from next year, when they currently get them for free from Mercedes as part of a long-term association.
Ross Brawn, who masterminded Schumacher's dominance with Ferrari at the beginning of the century, is likely to have been a major influence in persuading Hamilton to end his 14-year association with McLaren. Mercedes won their first Grand Prix this year in China.
Schumacher meanwhile has had just one podium finish since his return to F1 in 2010.