Will the real Matt Bellamy - Muse charismatic frontman - please stand up?
Mr Bellamy is immediately and obviously a very interesting person - someone who recorded his unborn son's heartbeat in hospital and later put the sound on his band's new album (proud dad), an ethereal dreamer who came up with the title of his band's latest album while watching Jeremy Paxman on Newsnight (nerd), and the de facto son-in-law of Goldie Hawn (accredited bona fide A-lister).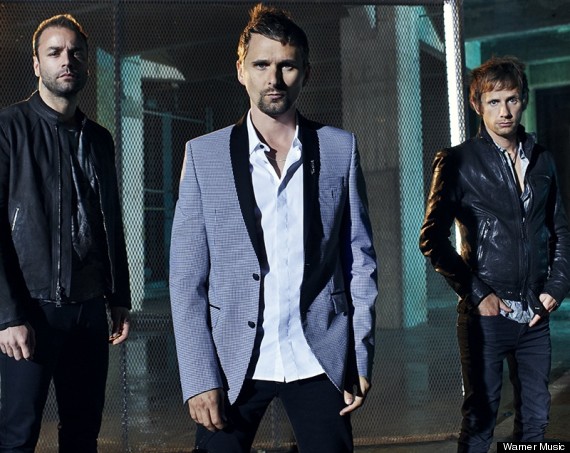 The 2nd Law is Muse's sixth studio album - after 15 million records sold, Matt B says they're "evolving"
Okay, let's deal with the first, most exciting part of this lot, the unborn sounds of baby Bingham, born to Bellamy and partner Kate Hudson in July last year. Was this a planned musical collaboration?
He laughs (often).
"It was totally spontaneous, two days before the baby's arrival, and Kate was in hospital, with this... strap thing, which I had no idea about, and suddenly we could hear everything. It was incredibly emotional."
So being a musician... "I recorded it on my mobile phone. And weeks later, I was in the studio, and it came back to me, this incredibly rarefied recording."
The result, Follow Me, is the sixth song on 2nd Law, the sixth album from the chart-toppers who have, to date, sold an impressive 15 million records, and are celebrated as one of the world's great live bands too. So how did this latest title come about? Hope you're sitting down...
"I was sitting watching Newsnight one night, with Jeremy Paxman going on about the Euro crisis. It was late 2011, and one bloke on the panel linked the economic crisis to unsustainability. He said it was just how energy functioned, and it's part of human evolution that there's a conflict in ourselves we can't yet overcome. It was so simple."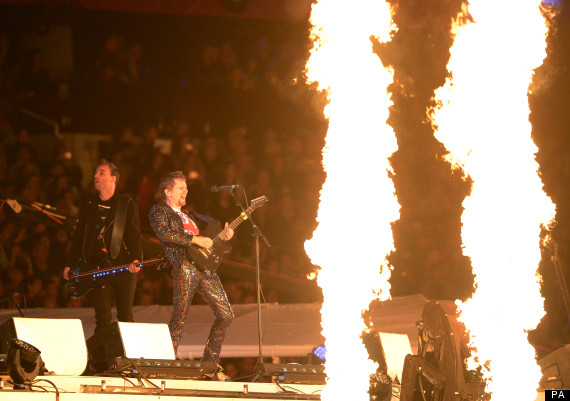 Muse kept it simple for the London 2012 Olympic closing ceremony
Well, obviously. I will bow to the higher perception levels of a proven master of turning abstract concepts into stomping stadium theatre, and hear instead about the influences at work on this latest collection, from touring with U2 to sharing song-writing duties with bassist Chris Wolstenholme... so what's new?
"I think it was just incredibly diverse," Bellamy does his best to explain. "Reminding ourselves that songs could be simple again, writing intuitively with no concept to try to explain, undramatic, our version of unplugged. There are some blues in there, too. And then at the other end, there is this preoccupation with unsustainability, so there's a lot going on."
Bellamy acknowledges, too, that spending time on the road with Irish uber-rockers U2 had an influence on their own production techniques...
"We realised the power of one guitar playing live, that these sounds can be small but powerful, that you don't need to overlay everything all the time."
What??? Does this mean the end of the musical cauldron for which Bellamy and his bandmates are famous? Bellamy quickly says not, just that there's room for other stuff, too... "You have to evolve. Stagnation breeds boredom."
Muse's lyrics, from their days as an ambitious trio in Teignmouth, Devon, have always reflected their concerns of the moment - whether it be romantic relationships or lack thereof, the environment, world problems, technology, the impending apocalypse... so all the usual pub chats, really. Would Bellamy call himself a laid-back kind of bloke?
"I would, actually," he beams. "I have an outlet to pour all those kind of thoughts, remember, so I can be pretty accepting of the world, particularly with a new baby. It does reaffirm your priorities, to have something so positive right in front of you."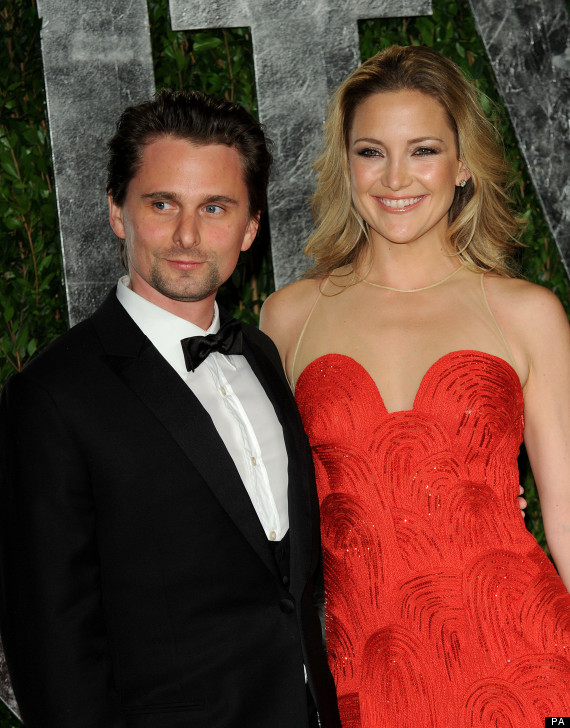 Hollywood royalty with partner Kate Hudson, and now their baby son Bingham has broken the world record for youngest ever person on an album, beating even Beyonce and Jay-Z's infant crooner* (*see the bottom of this piece for interesting fact)
Another burst of affirmation came with Muse's selection as providers of the official Olympic song, Survival, at the London Games. Bellamy reveals it was actually Sir Elton, in his initial capacity as musical director, who grabbed the band for duty as early as October last year...
"It was a great honour. In England there's a not always a great deal of positiveness, so to have all that optimism bubbling around - on the Tube, never mind in the stadium - was very refreshing, a reminder that it's just a great country."
It's all sounding deceptively normal, for a million-record hit-maker sharing a life with Hollywood royalty, who cites being given an award by an admiring Brian May as his most surreal celeb moment.
There must be others - he's Goldie Hawn's son-in-law for heaven's sake - so how does he keep the balance, as a creative person pouring out his thoughts, with keeping something for himself and his family?
"Well, I'm a songwriter, it's in my nature to express things openly. But you see things in the papers that are pretty disappointing... not the events, but the coverage..." (we are speaking the day the Duchess of Cambridge got holiday papped) "... so I guess you just make decisions as to how to live your life and then stick to that."
Which, no doubt for Matt Bellamy, includes watching Newsnight in the safe expectation of further inspiration.
* Additional note 2 October: It seems baby Bingham is not the youngest person to be featured on a published song - strange but true. The publicist for Mickey Hart of the Grateful Dead has been in touch with HuffPost UK, to tell us that Mickey recorded his son in utero in 1982 for his album Music To Be Born By, released in 1989. So that pushes baby Bingham into second-youngest, and Jay-Z's daughter into third. Unless you know someone younger...??
The 2nd Law is released on Monday through Warner Music - click here to pre-order/have a listen...
And here's the list of the world's most exciting live acts, as voted by NME readers... do Muse figure?
World's Most Exciting Live Act