The Voice coach and legendary crooner Sir Tom Jones surprised drinkers at a local London pub on Thursday night when he performed an intimate gig.
Jones belted out some of his classic songs at the The Wheelbarrow pub in Camden, when he showed up to kick off Arthur's Day celebrations, an annual day which marks the life and legacy of Arthur Guinness.
Pub landlord Ellis Billington said: "The surprise performance provided a unique experience for the locals thanks to Guinness. I was speechless when he walked in, as were most of the punters!"
Jones later performed at Senate House in London, where Wretch 32, VV Brown and Razorlight also took to the stage and raised toasts to Arthur.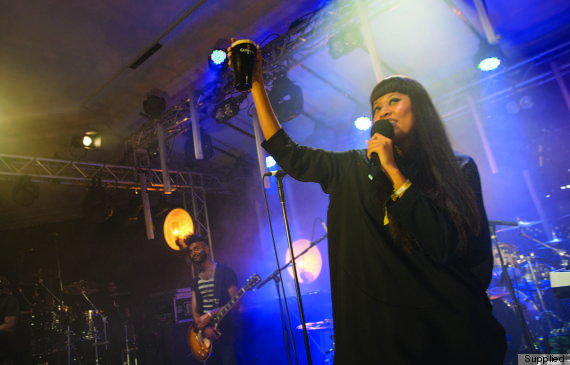 VV Brown on stage
VV Brown, who's been away working on her second album, a follow up to the critically acclaimed Travelling Like the Light, debuted some of her new music to the packed room inside Senate House.
Speaking to The Huffington Post UK backstage, she said: "This is quite an exciting experience because it's the first time playing material that no one has heard before.
"The sound of it is a lot different from the first record. It's sonically a lot more rawer, I've been listening to a lot of Kate Bush and New Order, so it's a bit more minimal and electronic."
On the subject of Tom Jones, she gushed: "He's a legend, my mum likes him, my nan likes him and I like him. He just crosses over all generations. He's performed with the likes of Ray Charles and Jimi Hendrix so when I got asked to do this gig I was really honoured and really grateful just to share a bill with Sir Tom Jones."
The event took place for the first time in Great Britain since the Arthur's Day celebrations began in 2009.
Take a look below at all the performances and famous faces that appeared on the night...