This was the conclusion to the BBC4 two-parter charting Joe Lampton's dilemma between the woman who could assure his future, and the woman he loved.
It was an age-old dilemma between head and heart, but no less gripping in the hands of a deceptively cocky Matthew McNulty as Joe Lampton.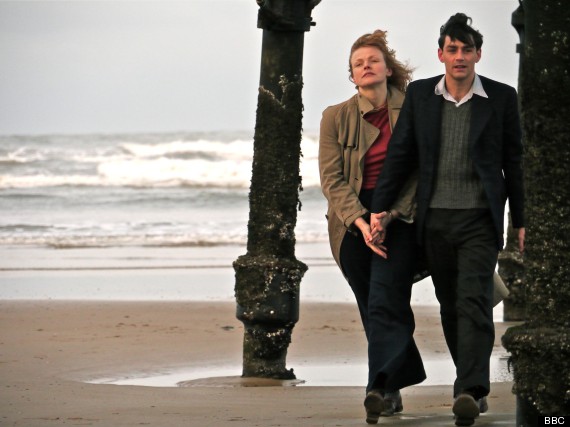 True love, but... inevitably, this didn't run smooth for Alice and Joe
For a while it looked as though love would triumph, as Joe's more conventional girlfriend Susan Brown dispensed with his courting services, leaving the floor free for a secret idyll with older, sexier, married Alice Aisgill - four whole passionate days, during which even our Marxist practical-minded hero left his calculator at home and got carried away with thoughts of 'the future'.
But reality intervened once more, and the unhappy trio ping-ponged around for a while, until Susan's pregnancy forced Joe's hand or, more accurately, Susan's father's cheque-book.
MORE: Room At The Top Part 1 - Room For A Chip On Both Shoulders...
As the indignant Susan, Jenna-Louise Coleman was the weakest link of the three in this marriage, but her character was meant to be childish and limited in comparison with the more complex charms of Alice, movingly conveyed by Maxine Peake in all her brittle hope, vulnerability and, finally, despair - a veritable Madame Bovary of Warley.
The Joe Lampton of John Braine's's novel had a tragic back-story - wartime captivity, loss of both parents - which this Joe eventually alluded to, but he probably needed more than two hours to carry fully the weight of that dark load.
Instead, McNulty concentrated on the present, and did a good enough job of conveying all the potential for hope, hunger, romance and resentment in a man of more brains than bank-notes - as true today as it was when John Braine put pen to paper in 1957.
Click here for more TV Reviews