Picture this: Mathew Horne (Gavin & Stacey) dressed like Queen Victoria, puffing on a fat cigar, arm-in-arm with Jane Asher (Alfie, Holby City, Jane Asher Party Cakes).
There's something comically timeless about a man in unconvincing drag playing the fool. Shakespeare aside, Charley's Aunt is one of the original cross-dressing comedies.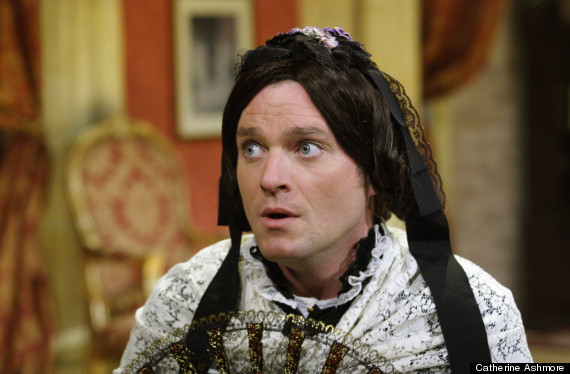 Mathew Horne (Lord Fancourt Babberley)
Brought to the stage by director Ian Talbot at the Menier Chocolate Factory Theatre, playwright Brandon Thomas'Charley's Aunt has the distinction of being a record breaking play in its own time: 1,466 performances during its first run in 1892. So popular was the show that carriages would collide as people fought to get to the theatre.
Oxford students Jack (Dominic Tighe) and Charley (Benjamin Askew) are expecting a special visitor, one who could change their lives forever. Charley's widowed millionaire Aunt, Donna Lucia (Jane Asher), will arrive at any moment, giving the pair the perfect respectable chaperone for proposing to their sweethearts. When Donna Lucia is delayed, the pair have no choice but to dress their friend Babbs (Mathew Horne) in women's clothing to impersonate their dear old Aunt.
Horrified at first, Babbs soon gets into his new role.
Horne is the play's central source of energy, dashing between pillars as he is chased by unwanted male admirers, gabbling hurriedly. So hasty is his performance, that the comic timing is often lost in the pace. Horne could easily savour more of the spotlight with lines delivered with slower deliberation and longer awkward silences that exploit the cringing nightmare of the situation.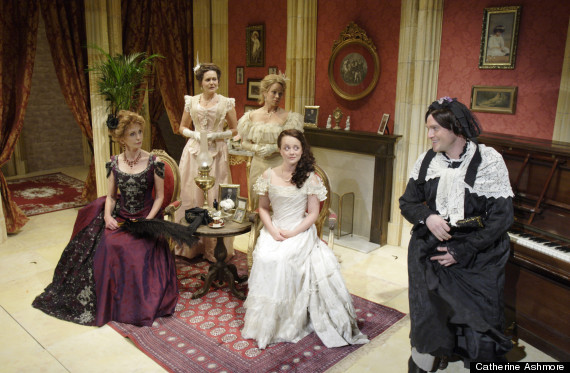 Jane Asher (Dona Lucia),Leah Whitaker (Kitty), Ellie Beaven (Amy),Charlie Clemmow (Ela), Mathew Horne (Lord Fancourt Babberley)
Excelling as a double act, Tighe and Askew bounce dialogue off each other effortlessly as they play the upper class twits who define love as: wanting to be alone, writing poetry and taking to drink.
Veteran actress Jane Asher brings the calm confidence of a lifetime of film, TV and stage roles. Elegant and measured, Asher is the perfect antipathy of Horne's nervous energy and shambling appearance, as he sits sweating and gurning in a bundled heap of women's clothes.
Most of the best lines go to the male characters in Charley's Aunt; the female characters set up the gags for the hapless men running circles around the stage. However, Leah Whitaker succeeds in delivering the sentimental love story of the play, making as much of an impression as Asher.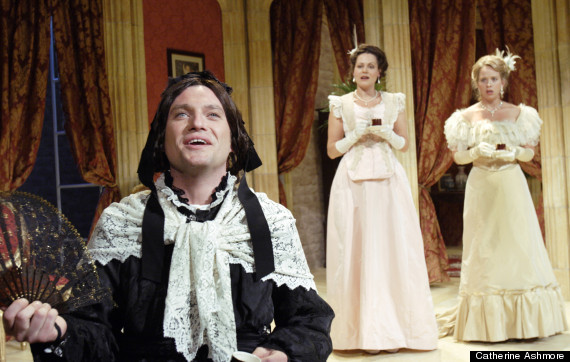 Mathew Horne (Lord Fancourt Babberley), Leah Whitaker (Kitty), Ellie Beaven (Amy)
With new comedies trying to be that little bit darker, shocking and clever, it is refreshing to visit the easily forgotten classics to rediscover the old formula.
Charley's Aunt reminds us what it took to pack out an audience a century ago: fun, wit, harmless slapstick, with a dash of lipstick on a stubbled face.
Charley's Aunt is running at the Menier Chocolate Factory Theatre, London, 20 Sep 2012 - 10 Nov 2012.
Take a look at all of HuffPost UK's theatre reviews: