Elizabeth Olsen agrees that being turned down by a nice man for the right reasons is infinitely worse than having your heart thrown away by a casual cad.
"Oh yes," she squeals. "Horror of horrors... you just have to try to think it happened for a reason. I try to think like that about everything, all the jobs I don't get, everything.
"It even happened to me yesterday in Liberty's. They had this great shirt in every size but mine, so I just had to think it was so I could get another one. In the last 18 months, I've become a lot more trusting."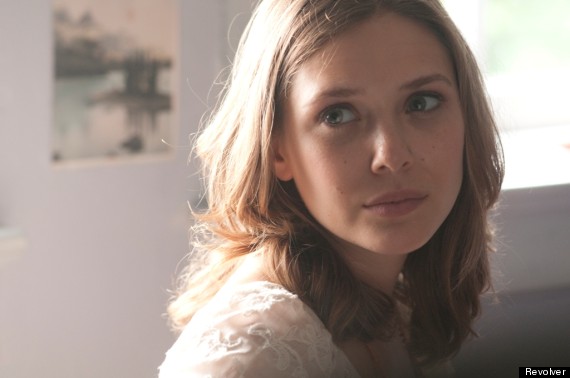 Elizabeth Olsen stars in Liberal Arts - a subject she's passionate about
The reason I'm asking is because of her starring role in Liberal Arts, an independent, deceptively light drama out on Friday (5 October), where Olsen plays Zibby, the smart but inevitably younger girl Jesse (Josh Radnor) falls for when he pays a visit to his old stomping ground campus and revisits his youth at the same time.
Liberal Arts, penned and directed by Radnor too, is one of those intelligent sunlit dramas American writers can do so well - touchy-feely, but with healthy spoonfuls of self-awareness and lots of wit.
The film touches on the age-old dilemma of age differences in couples too as, in a very funny scene, 35-year-old Jesse agonises over how old he was when Zibby was born, and then how old he'll be... does Olsen believe in 'the right age'?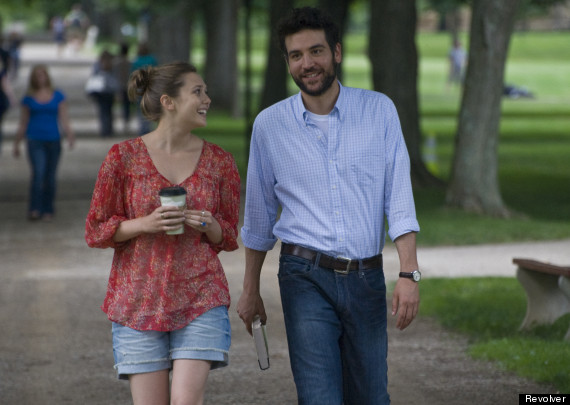 Elizabeth Olsen and Josh Radnor strike up an unlikely companionship in Liberal Arts
"I don't think it's so much an age thing, as that people just need different things at different times in their lives," she says diplomatically.
"But there's no doubt that boys grow up at a slower rate - this definitely couldn't have happened the other way round."
And the film also explores the different attitudes towards learning and university, especially in the Liberal Arts of the title - are these the brains of tomorrow, or just a load of spoilt kids using their parents' money to be 'expressive' - for that, read pretentious - pillocks for three long years?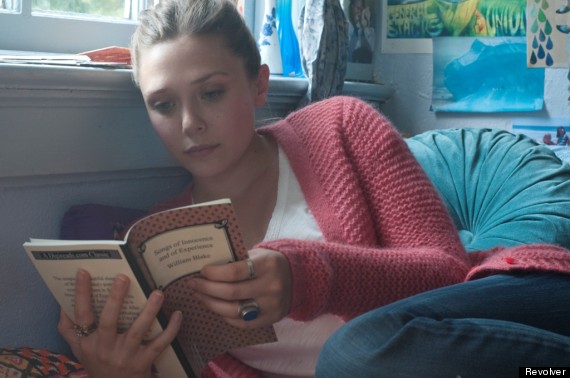 The solace of books...
"The film says, it's the only place you can say you're a poet and not be beaten up," remembers Olsen, pointing to a scene where Jesse and Zibby argue over the 'popular' vampire novel she's reading, and she accuses him of snobbery. The 23-year-old actress is evidently in the Twilight/Harry Potter camp on this one.
"Fewer and fewer kids are reading, so if they're reading a young adult novel, at least they're reading.
"For me, because I don't have the luxury of time, I don't have a novel. I like to read things off a list, books to read before I die. What have I currently got on the go? Err, Jeffrey Eugenides' The Marriage Plot."
Not something we'd necessarily associate with an Olsen, whose name remains instantly recognisable due to her elder twin sisters, doyennes of child stardom turned New York fashion entrepreneur-dom, a preconception that the latest star in the family seems very relaxed about.
"I'm very proud of them, but I don't think about it either positively or negatively. How people react to it is something completely beyond my control."
Just like being dumped by a nice boy, or not getting the Liberty shirt of your dreams...
Liberal Arts is in UK cinemas from Friday 5 October. Watch the trailer below...
Elizabeth Olsen also appears in Silent House, now available on Blu-ray and DVD from StudioCanal.