Real Madrid manager José Mourinho has vowed to return to manage in the Premier League, but has admitted he would prefer not to succeed Sir Alex Ferguson as Manchester United manager straight away.
Mourinho's contract with the Primera Liga champions expires in 2016 but the Portuguese, who has made no secret of his desire to return to England, has again predicted his future career path.
He won five trophies in just over three years with Chelsea before guiding Internazionale to three trophies in two seasons - including the club's first European Cup win since 1965.
"I just say openly that, for many reasons, after this the next step will be England," the 49-year-old told CNN in a candid interview.
"When? I don't know, I don't have an idea. I'm so happy in this moment to be manager of the best club in the world." Mourinho savours victory against Manchester City in the Champions League
Mourinho joined Madrid immediately after his treble triumph with Inter in 2010 and has won the Copa del Rey and league championship in his two campaigns with the club.
Although he is valued by many Manchester United supporters as the ideal successor to Ferguson, such is Mourinho's respect for the man he calls "boss" he wants to manage against him again in the premier League.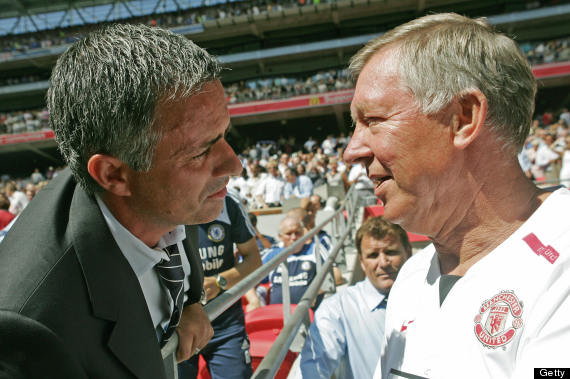 Mourinho greets Ferguson for the last time as Chelsea manager at the 2007 Community Shield
"The perfect scenario is when I go there he is still coach. Because football will lose a lot when he stops.
"For me, he is the boss. I call him the boss because he is the boss of the coaches and I hope when I go back to English football he is still manager of Manchester United."
Despite reaping success in Spain, Mourinho's period at Madrid has been subject to much conjecture, with him accused of treating the squad's core of Spanish internationals differently to the Portuguese contingent and players he has brought to the club.
In January it appeared as though his representatives had briefed a number of media outlets he would depart the Spanish capital at the end of the 2011-12 campaign, but instead Mourinho inked a new deal with the Madridistas.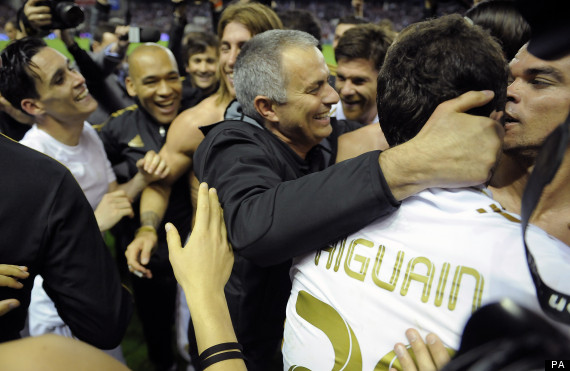 Mourinho embraces his players after Madrid win their first title in four years
However he revealed coaching one of the biggest clubs in world football has negatively impacted his social life and ability as a father.
"I hate my social life," he confirmed. "I hate not to be a normal father who goes with his son to the son's football match and being there with the other 20 fathers there watching the game.
"I'm at a football match of kids and I have to be there. The people have to come for photos; the people have to come for autographs; the people have to come to insult me; the people have to go behind the goal of my kid and insult my kid of 12."