"I was always going to get on well with Julie - she's a camp old diva," remembers Julian Clary fondly of his time in the Celebrity Big Brother house.
"But the others, people like (MC) Harvey - you don't think you're going to have anything to say to them, but you try, and then somehow you find things in common.
"Big Brother's desperate to find ways of creating disharmony, but somehow we got over all that. And you've been through something together so unusual, so there'll always be a bond."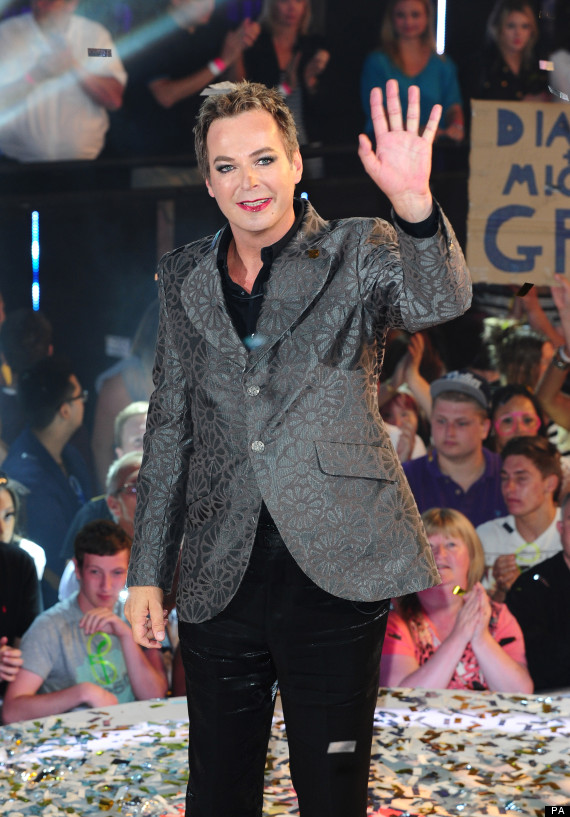 Julian was a surprised winner of Celebrity Big Brother this year
Julian Clary memorably kept his composure throughout the duration of the most recent show, somehow keeping his counsel between the theatrics of Goodyear and the alpha-male posturings of Harvey and Co, until the very last moment... when he collapsed in a puddle of emotion on discovering he was the victor.
"Well, I'd never won anything," he explains now. "It's just not something I've really experienced in my life."
So what convinced the comedian, these days more used to happy rural solitude, tucked away in Noel Coward's old house feeding his chickens and penning his novels (a fourth is on the way next year) to enter this very public holiday camp, and what did he make of the whole experience?
"I'd never have gone in the jungle - that would be too humiliating, too scary. But I've always liked watching it, I thought I could always leave if it got too much and, anyway, they offered me a lot of money, so it seemed the right thing to do."
Was it what he expected?
"It's surprising how you very quickly become institutionalised and paranoid in there. Your emotions are manipulated. They give you a party, and you're all enjoying yourselves, and then the next thing you know, they're stopping it, and making you nominate someone for eviction.
"You can only be yourself, and hope that gets you through."
Having emerged triumphant from the house, Clary is back on the road with his show Situation Vacant: Apply Within.
The format is something probably only Clary could get away with, searching for a husband during the evening, using "ruthless elimination games", promises of a glass of Blue Nun to those who try hard, with the finale a wedding every night on stage. What are the criteria?
"Stamina - five times a night. Attractiveness (and I don't discount ginger) and... hmmm, let me see... good with his fists," he finishes calmly.
Ok. Before anybody getting tickets gets too nervous, it's all for show. Clary has a perfectly nice partner at home, who hasn't seen the show yet, but the comedian is "hoping he'll oblige".
One of Clary's gay peers, Rupert Everett, recently caused public wrath to fall upon him with his remarks that he couldn't imagine being brought up by two dads, which he further clarified as his antipathy to marriage in general. Which side of that does Clary sit on?
"Well, his argument doesn't really hang up, does it?" he muses equably. "I'm sure he believes in equality, so gay people should have the same rights as everyone else, I'm sure he'd believe that."
However, Clary generally sees it as his mission to amuse, rather than get too political. "I have enormous admiration for Peter Tatchell, and his tireless efforts. I don't know where he gets the energy. But I'd much rather stay at home myself and feed my chickens."
I can hear the friendly cluck in the background on the phone, and wonder what aspect of Clary's real world he missed most while he was tucked away in the house for three long weeks...
"Solitude, definitely. Time on my own. And a hoover. You have no idea how filthy it got. They gave us a hoover for about half an hour during the whole three weeks. Filthy."
Situation Vacant: Apply Within - remaining tour dates and ticket information details below...
Venue: Palace Theatre, Southend
Dates Wednesday 3rd October
Box Office: 01702 351135
Internet: www.thecliffspavilion.co.uk
Venue: Corn Exchange, King's Lynn
Dates Thursday 4th October
Box Office: 01553 764864
Internet: www.kingslynncornexchange.co.uk
Venue: Arena, St Albans
Dates Friday 5th October
Box Office: 01727 844 866
Internet: www.alban-arena.co.uk
Venue: Assembly Halls, Tunbridge Wells
Dates Saturday 6th October
Box Office: 01892 530613
Internet: www.assemblyhalltheatre.co.uk
Venue: City Varieties, Leeds
Dates Thursday 11th October
Box Office: 0845 644 1881
Internet: www.cityvarieties.co.uk
Venue: Harrogate Theatre, Harrogate
Dates Friday 12th October
Box Office: 01423 502116
Internet: www.harrogatetheatre.co.uk
Venue: Journal Tyne Theatre
Dates Saturday 13th October
Box Office: 0844 493 9999
Internet: www.thejournaltynetheatre.co.uk
Venue: The Hawth, Crawley
Dates Wednesday 17th October
Box Office: 01293 539418
Internet: www.hawth.co.uk
Venue: Corn Exchange, Cambridge
Dates Friday 19th October
Box Office: 01223 357 851
Internet: www.cornex.co.uk
Venue: New Alexandra, Birmingham
Dates Saturday 20th October
Box Office: 0844 871 3011
Internet: www.alexandratheatre.org.uk
Venue: Opera House, Manchester
Dates Sunday 21st October
Box Office: 0161 828 1700
Internet: www.manchesteroperahouse.org.uk
Venue: Music Hall, Aberdeen
Dates Wednesday 24th October
Box Office: 01224 641 122
Internet: www.musichallaberdeen.com
Venue: The Maltings Theatre, Berwick Upon Tweed
Dates Friday 26th October
Box Office: 01289 330999
Internet: www.maltingsberwick.co.uk
Venue: St David's Hall, Cardiff
Dates Wednesday 31st October
Box Office: 029 2087 8444
Internet: www.stdavidshallcardiff.co.uk
Venue: Theatre Brycheiniog, Brecon
Dates Friday 2nd November
Box Office: 01874 611 622
Internet: www.theatrbrycheiniog.co.uk
Venue: Arts Centre, Aberystwyth
Dates Saturday 3rd November
Box Office: 01970 623 232
Internet: http://www.aberystwythartscentre.co.uk/
Venue: Grand Theatre, Lancaster
Dates Thursday 8th November
Box Office: 01524 64695
Internet: www.lancastergrand.co.uk
Venue: Gate House, Stafford
Dates Friday 9th November
Box Office: 01785 254 653
Internet: www.staffordgatehousetheatre.co.uk
Venue: Pavilion Theatre, Worthing
Dates Saturday 10th November
Box Office: 01903 206206
Internet: www.worthingtheatres.co.uk
Venue: Churchill Theatre, Bromley
Dates Sunday 11th November
Box Office: 020 8464 7131
Internet: www.ambassadortickets.com/The-Churchill
Venue: Dorking Halls, Dorking
Dates Wednesday 14th November
Box Office: 01306 881717
Internet: www.dorkinghalls.co.uk
Venue: Wyvern, Swindon
Dates Thursday 15th November
Box Office: 01793 524 481
Internet: www.wyverntheatre.org.uk
Venue: Town Hall - Festival, Cheltenham
Dates Friday 16th November
Box Office: 0844 576 2210
Internet: www.cheltenhamtownhall.org.uk
Venue: Pavilion, Bournemouth
Dates Saturday 17th November
Box Office: 01202 456400
Internet: www.bic.co.uk
Venue: The Anvil, Basingstoke
Dates Sunday 18th November
Box Office: 01256 844 244
Internet: www.anvilarts.org.uk
Venue: O2 Shepherds Bush Empire, London
Dates Friday 23rd November
Box Office: 020 8354 3300
Internet: www.o2shepherdsbushempire.co.uk