"We've given them a bath, it worked a treat," jokes Gary Barlow as we discuss his decision not to give his X Factor contestants the typical dramatic makeovers - featuring a lot of fake tan - we usually get to see on the show.
Scottish singer Melanie Masson, one of Gary's chosen final three 'Overs', reflects: "I think we've been given an upgrade rather than a makeover."
And Carolynne Poole, who also tried her luck on last year's show, adds: "I think there'll be a natural progression if we're lucky enough to carry on through the weeks. They'll probably just pile more and more makeup on."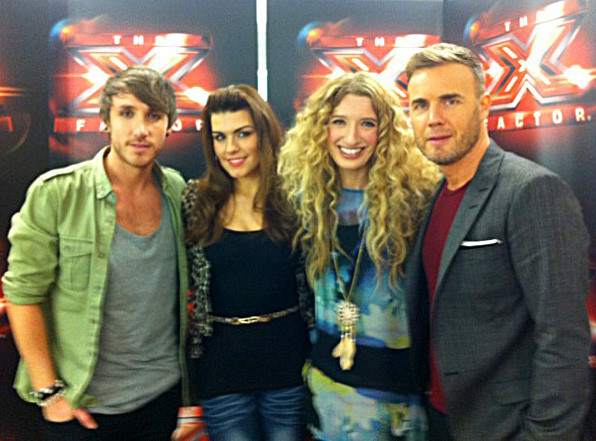 Kye Sones, Carolynne Poole, Melanie Masson and Gary Barlow
The 32-year-old explains: "Because we're older and a bit more mature, I think it would be a bit too much if they were to completly change us."
The only man in Gary's group, Kye Sones, a chimney sweep from London, says: "I know I've had every dodgy haircut under the sun and you stick with what works for you, so for them to change it, I know it wouldn't really work out. We know who we are as people and musically, and that's something we all sit very comfortably with."
As we chat inside a small dressing room at ITV's head office, the group are gearing up for their first live show on Saturday night. Are they starting to feel nervous?
"I'm pretty scared about falling down those steps when the doors open, that's my worst nightmare," frets Carolynne.
Gary, ever the mentor, reassures her: "Falling over is never a good look, but you'd probably get voted in if you fell over, we'll use that later on." Gary and his Overs on Daybreak on Tuesday
INTERVIEW: The X Factor Wildcards talk about the moment they found out they'd be back on the show.
The gang all seem to be raring to go. "We've known for three weeks that we've been through and not been able to tell anyone," says Melanie.
The Overs could have a new member come the weekend, if viewers vote for Liverpudlian wildcard act Christopher Maloney to re-enter the competition. Is that something they all want to happen?
"We love him, he's brilliant. Whenever I've seen him audition, the crowds love him, they come up off their feet so he deserves a place definitely. We hope he's back, we've left a man and have got to go back and get him," enthuses Gary.
However, curly-harired Melanie is more cautious in her response: "It's so difficult because obviously there are some great wildcards. There's Amy and Times Red and I'm quite close to Scott from Times Red, he's a fellow Scot of course, but Chris is one of us, we've gone through this journey with him... he's a great talent."
I ask Gary, who seems to take the competition very seriously, how important it is for him to win this year...
"It's a tricky question, that, because obviously it would be brilliant to win. There's always a side of me that thinks the judges should be competitive, but as long as it's not at the cost of the artists on the stage.
"I think if I were to send someone home because of something I'd said it would really upset me," the Take That singer reasons.
He adds: "Ultimately what we want is someone who will sell lots and lots of records. Within a year they've forgotten who their judge was anyway.
"That is the main aim of this show - to get superstars at the end of it, people who are going to sell records all over the world. I wouldn't ever stand in anyone's way just because they weren't in my category."
Has Gary got the X Factor winner in his category? Let us know below.