ABBA fans will be relieved to know that the exhibition dedicated to their stunning career, sounds and videos, which has travelled the world since its inception in 2009, will find a permanent home in Stockholm, Sweden.
The museum features some of the band's memorable stage costumes - diagonal blue stripes, dungarees and all, instruments and other mementoes. One highlight of the exhibition is a reconstruction of the holiday hut from the Stockholm island, where Benny and Bjorn sat and wrote some of their many hits.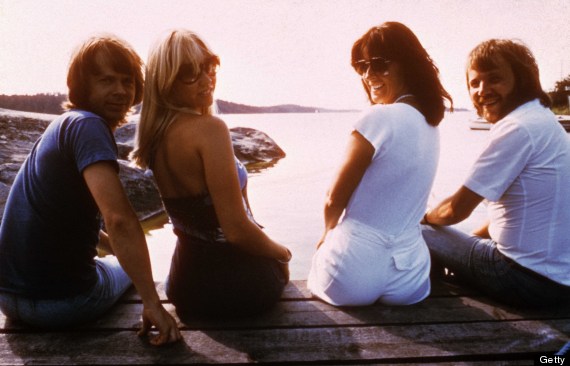 Nearly 400 million record sales - no wonder they're smiling
A quick survey in this office has revealed that, for some of us, there was no such thing as an 'ABBA revival'. Because, for us, they never left. And we have seen this exhibition ourselves, on two separate sides of the globe.
But we can't be alone. The Swedish quartet has sold nearly 400 million records since its heyday in the 1970s, and was this week confirmed again as the artists behind the UK's best-selling CD, with their ABBA Gold outselling all the other iconic chart-settlers like Michael Jackson, Queen and Dire Straits.
MORE: 12 Things That SHOULD Be Into The ABBA Museum
So, for the first in our new Wednesday Wallow series where we delve into all things nostalgic, we ask... What Is Your Favourite ABBA Song? and let us know if we've missed it out in our poll. It's understandable, they never wrote a duff note, but we've tried to include all the classics. But what's the best?!
VOTE For Your Favourite ABBA Song Below
AP reports former band member Bjoern Ulvaeus confirming today that "ABBA The Museum" will be part of a Swedish music hall of fame to be inaugurated in Stockholm next spring.
The museum will feature some of the band's glitzy stage costumes, instruments and other mementos that were displayed in the ABBAWORLD exhibition that toured Europe and Australia in 2009-2011.
Ulvaeus said he hoped all four former ABBA members would attend the opening, but ruled out any chance of a stage comeback: "We are the only group of that status that has never been reunited. I think that is cool."
Now feel free to vote. Mine is When All Is Said And Done - and yes, it was long BEFORE Meryl got all sentimental at the end of Mamma Mia!) - but don't let that influence you! Have your say below...