Steven Gerrard has blamed Chelsea and Manchester City's financial strength for Liverpool's failure to win the Premier League this century.
Russian billionaire Roman Abramovich bought Chelsea in 2003 and the Blues have since won three titles in 2005, 2006 and 2010.
Sheikh Mansour's takeover of Manchester City five years after Abramovich in 2008 was pivotal in ending the club's 35 years without a major trophy and this year the Citizens became champions for the first time in 44 years.
Despite Manchester United and Arsenal having won the Premier League four times and once in that period of time, Gerrard is adamant England's moneybags clubs have deprived him of a league winners' medal.
"There is no two ways about it, if there was no Roman Abramovich (Chelsea owner) or the guy (Sheikh Mansour) who bought Manchester City I'd have two or three league titles sitting here now," said the club captain at the launch of his new autobiography My Liverpool Story.
"People who buy football clubs can have too much power for other clubs in the league and that is what has happened.
"We can't compete financially so we need to worry about ourselves and be the best we can be and see where we end up."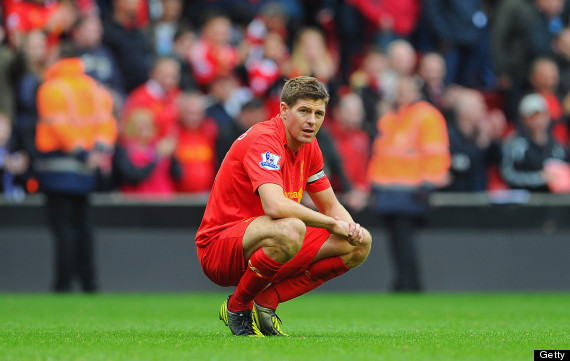 Gerrard has won every trophy except the Premier League with Liverpool
Gerrard added in the book it will be a 'miracle' if he does ever win the league with the Reds. He has won two League Cups, two FA Cups, the Uefa Cup and the Champions League in his 14 years at Anfield.
The closest Liverpool have come to a first league win since 1990 was in 2008-09 when they finished second to United. It was the season of Rafael Benítez's infamous and ill-advised 'fact' speech, which proved to be a turning point in the East Lancs clubs' duel.
Chelsea attempted to sign Gerrard in 2004 and 2005, with the 32-year-old handing in a transfer request in light of the Blues' interest in the latter year. However he does not regret doing a U-turn.
"I have no regrets over the decisions I have made," he stressed.
"I am really happy I stayed. I am the captain of the club I love and this club means more to me than any other club out there.
"Of course I'd love a Premier League winner's medal and that may have happened if I'd moved clubs but would that league title mean as much to me as the other trophies I've won here? No - fact."