UPDATE: The Turkish parliament has approved a bill authorising cross-border military operations in Syria, but insists it is not a mandate for war.
Turkish forces fired on Syrian soldiers in retaliation for shelling a residential suburb of the Turkish border town of Akcakale on Wednesday.
Turkish artillery hit the Syrian town of Tel Abyad on Thursday, according to Reuters. The Syrian Observatory for Human Rights added that several Syrian soldiers had been killed. The artillery is reported to have targeted a military base in the town. Tayyip Erdogan: "Turkey... will never leave unreciprocated such provocations"
The exchange has raised fears of full-scale conflict between the neighbouring states, with Turkey's prime minister, Recep Tayyip Erdogan, condemning Bashar al-Assad's forces after Wednesday's attack, which left five civilians dead and several wounded. According to the mayor of Akcakale, a mother, her three children and a family friend died in the attack.
A statement released by the Turkish prime minister called Syria's actions an "atrocious attack", adding: "Turkey... will never leave unreciprocated such provocations by the Syrian regime against our national security."
The Turkish deputy prime minister, Bulent Arinc, was more forceful, stating that Syria would be "held to account".
"Turkey is a sovereign country. There was an attack on its territory. There must certainly be a response in international law," he added. "I hope this is Syria's last craziness."
Writing on Twitter, Ibrahim Kalin, a senior adviser to prime minister, followed Erdogan lead, writing:
The State-run Syrian Arab News Agency (SANA) said on Thursday that Syrian authorities have offered "condolences on behalf of the Syrian government to the family of the deceased and the Turkish people".
Following an emergency meeting at Nato headquarters on Wednesday night, the organisation released a statement strongly condemning Syria's shelling of Akcakale, which occurred during a fire fight between Syrian regime forces and Syrian rebels.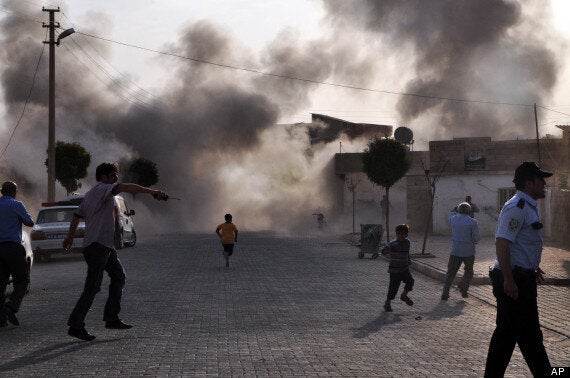 Smoke rises from the explosion area after several Syrian shells crashed inside Akcakale
The Nato statement read: "In the spirit of indivisibility of security and solidarity deriving from the Washington Treaty, the Alliance continues to stand by Turkey and demands the immediate cessation of such aggressive acts against an Ally, and urges the Syrian regime to put an end to flagrant violations of international law."
Turkey has been highly critical of the Assad regime in recent months, and has repeatedly called for President Assad to step down to end the 18-month long civil war. On Wednesday, the Turkish government called for United Nations involvement in the crisis to "ensure that Syria respects Turkey's sovereignty, territorial integrity and security".
On Thursday, foreign secretary William Hague condemned the attack on the Turkish village, describing the cross-border shelling as an "outrageous act". Meanwhile, Syrian activists reported that Syrian rebels had killed 21 elite Republican Guards in an ambush in Damascus.
Related