Orlando Cruz has become the first active boxer to publicly reveal he is gay.
The Puerto Rican featherweight, who competed in the 2000 Olympic Games and has a professional record of 18(9)-2-1, went public regarding his sexuality in a press release today.
"I've been fighting for more than 24 years and as I continue my ascendant career, I want to be true to myself," he said.
"I want to try to be the best role model I can be for kids who might look into boxing as a sport and a professional career.
"I have and will always be a proud Puerto Rican. I have always been and always will be a proud gay man."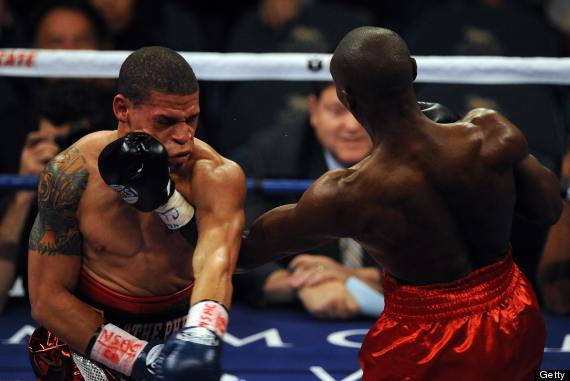 Cruz bouts Cornelius Lock during their NABO Featherweight Title fight at the MGM Grand Garden Arena in 2009
The revelation comes just two weeks before Cruz takes on Jorge Pazos for the WBO Latino featherweight crown in Florida, a bout that could propel the 31-year-old to a world title fight.
Cruz has bounced back with two victories since being stopped by Cornelius Lock - his first professional defeat - and knocked out by Daniel Ponce de Leon in successive bouts.
Former two-weight world champion Emile Griffith is the only other professional boxer to come out as bisexual in an interview with Sports Illustrated magazine, but his admission came after he had retired.
"I've chased men and women. I like men and women both....I don't know what I am. I love men and women the same," he said.
In Britain, only Surrey's wicketkeeper-batsman Steven Davies, footballer Justin Fashanu, who died in 1998, and dual-code rugby international Gareth Thomas have come out during their careers.