When Ben Affleck's good, he's... Good Will Hunting. And The Town. And Gone Baby Gone. So his latest film shouldn't be such a surprise, and yet...
Argo still impresses with its heavy-weightedness, and HuffPost UK has an exclusive featurette - WATCH ABOVE.
Argo - based on true events - chronicles the life-or-death covert operation to rescue six Americans, which unfolded behind the scenes of the Iran hostage crisis, the truth of which was unknown by the public for decades.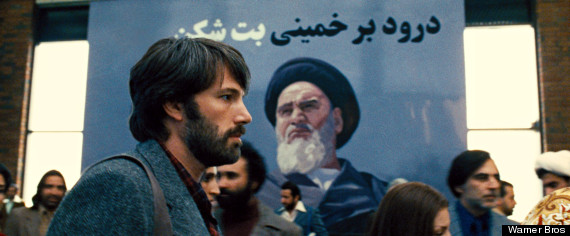 Ben Affleck in Argo - his best screen effort yet?
Affleck directs and stars, George Clooney produces along with Affleck and Grant Heslov. The quality stamp is firm.
Some historical blurb...
On November 4, 1979, as the Iranian revolution reaches its boiling point, militants storm the U.S. embassy in Tehran, taking 52 Americans hostage. But, in the midst of the chaos, six Americans manage to slip away and find refuge in the home of the Canadian ambassador. Knowing it is only a matter of time before the six are found out and likely killed, a CIA "exfiltration" specialist named Tony Mendez (Affleck) comes up with a risky plan to get them safely out of the country. A plan so incredible, it could only happen in the movies
.
This is a serious political thriller, already being touted for mentions in Awards Season. It seems Ben Affleck has properly come of age.
Argo will be in UK cinemas from 7 November. To find out further info on the film join in at http://www.facebook.com/ArgoMovieUK, and watch the trailer below...