EastEnders' current storyline about teen mum Lola having her baby, Lexi, taken away from her by 'meddling' social workers has angered those working in the profession.
The British Association of Social Workers (BASW) have condemned the plot and accused BBC producers of being "too lazy and arrogant" to get their portrayal of the child protection process right, the Media Guardian reports.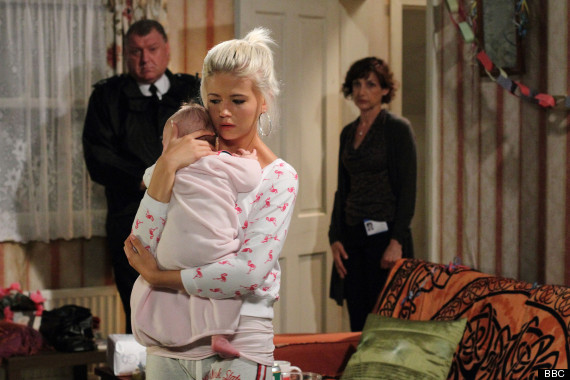 The social worker and police arrive, and Lola knows she's in trouble.
Bridget Robb, acting chief of the BASW, told the newspaper: "Social workers have a difficult enough job as it is. Unlike the writers and actors on EastEnders, they have to step through those front doors that no one else wants to step through, and they do it on a daily basis, to protect children, not to target families.
"EastEnders' shabby portrayal of an entire profession has made a tough job even tougher."
In response to a complaint by one social worker the BBC reportedly said: "There was no suggestion that the social worker's actions were anything other than a genuine desire to protect Lexi, or that her concerns about Lola were unreasonable, given the picture she and the previous social worker had formed over a substantial period of time."
Reactions to the storyline on Twitter from fans of the show have so far widely condemned the social worker character:
And one social worker used the social networking site to condemn the storyline, she wrote: