A man has been charged with criminal damage after a Mark Rothko painting was defaced at London's Tate Modern gallery.
Wlodzimierz Umaniec, 26, also known as Vladimir Umanets, was charged with one count of criminal damage in excess of £5,000 and will appear before magistrates at Camberwell Green on Wednesday.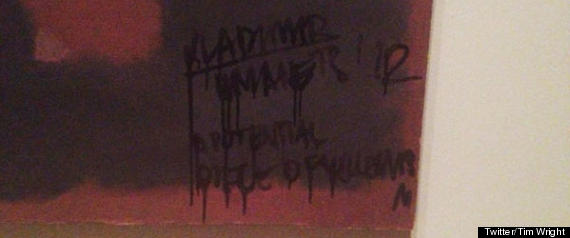 The Rothko was defaced with words that appeared to read:"Vladimir Umanets, A Potential Piece of Yellowism."
The Polish national, of no fixed abode, was arrested on Monday after the mural was vandalised at the weekend.
A man was seen to daub the Rothko mural on Sunday afternoon before fleeing the gallery.
The Tate Modern was shut for a short period then reopened at 3.25pm.
The gallery said it does not have a price for the defaced piece, but paintings by the Russian-born artist often fetch tens of millions of pounds.
Earlier this year, Rothko's Orange, Red, Yellow sold for £53.8 million - the highest price paid for a piece of post-war art at auction.
The 1961 painting went under the hammer at Christie's in New York.