Downton's latest dashing visitor is Michael Gregson, the newspaper editor who seems to be about to make a suffragette of Lady Edith with her column on women's rights.
According to Charles Edwards, who plays him, Gregson is "wealthy, but he has a few other issues".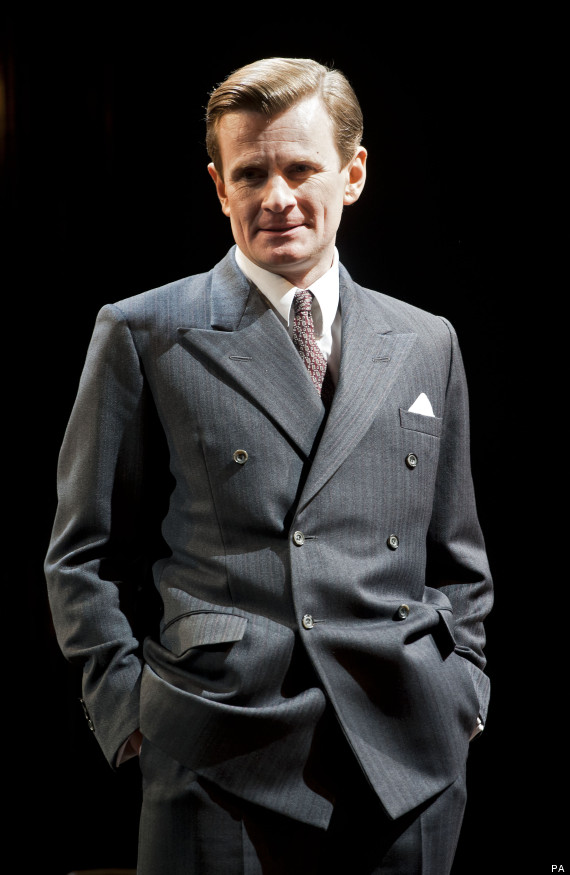 Charles Edwards, seen here on stage in The King's Speech, looks to fit right in at Downton
It's every actor's dream right now to be asked to appear on the steps of the Abbey, with its instant recognisability factor on both sides of the Atlantic, so how did it feel for Edwards to get the call from Lord Fellowes' people?
"It was terrific. It came off the back of my appearing in The King's Speech on stage," reports Edwards, "so somebody had seen me in that kind of world. I was very chuffed, and then when I turned up to work, I discovered a fantastic group of people, too. It's lots of fun."
It's been a busy few months for Edwards. As well as his Downton gig, he's been filming the role of Princess Diana's private secretary Patrick Jephson in the film Diana - exploring the last couple of years of the Princess's life. Edwards reliably informs us that this won't be a trash-fest... particularly because esteemed Downfall director Oliver Hirsbiegel is at its helm...
"It's not tittle-tattle. The angle it takes is the much quieter story of her love affair with Hasnat Khan, and it's focused on that relationship. The only glimpse we really get of palace life is when we see Prince Charles on TV with Jonathan Dimbleby.
"It's basically a love story, and about what happens when one of that pair happens to be very, very famous, and the effect that has on the whole thing.
Edwards has yet to meet Jephson, who famously resigned after his boss appeared on Panorama without telling him, but he's read his book...
"I found him very interesting to play - someone trying to navigate form and palace protocol, but who found she was just too much of a livewire and he couldn't handle it. It's a great role to play."
And meanwhile, Edwards has also been doing his time on stage, including stints at the National and London's Globe Theatre in Much Ado About Nothing with Eve Best.
The Globe on Screen's season brings Much Ado to screens around the country tonight, and Edwards is convinced it's as much a screen experience as a live one for the viewer...
"It's not like one of those live filmed productions that looks like a school play performed in a gym. It's very smartly done on HD, and audience-orientated.
"You don't feel any more self-conscious on stage because of the cameras. At the Globe, you're so completely exposed, you're right down there next to them, especially the people with standing tickets, so you pretty much have to chuck all self-consciousness out of the window anyway."
What would the Dowager say?
Charles Edwards stars in Much Ado About Nothing, in cinemas Wednesday 10 October. Globe on Screen season 2012 continues with Doctor Faustus, featuring Arthur Darvill, in cinemas 24 October. For more information about the cinema season and how to book tickets please visit the official website.