"It puts me in quite a childish place," says singer and producer Ben Hudson, better known as Mr Hudson.
The musician, who's worked with music heavyweights such as Kanye West and Jay-Z, and British acts like Tinie Tempah, Dizzee Rascal and N-Dubz, is explaining why he's tried something different, namely forming a band and recording a fun pop album with Bill Oddie's daughter, Rosie Bones.
"Working with Rosie is like a fresh new thing for me and I'm playing the piano on stage, which I've never done before and it's a bit scary," he says, as we sit in his North London recording studio with a cup of tea.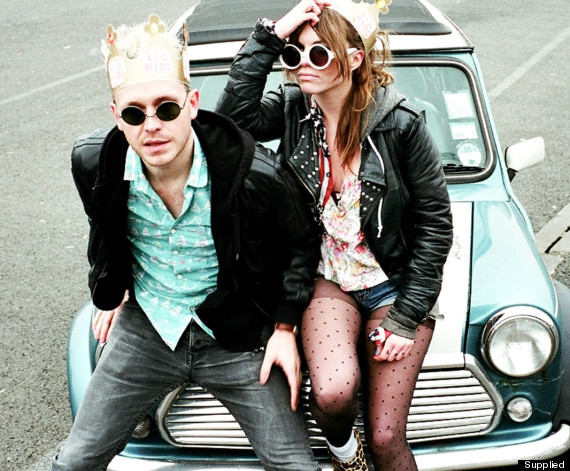 "It feels like the beginning, and this is art, it should always feel like you're doing something new - otherwise go and work in a factory," he adds.
Full of energy, Hudson's just answered the door to me wearing a gold paper crown: "I was in Burger King - living the dream - wrapping myself round a Whopper, and I just noticed Burger King, Big Kids the alliteration there, and I thought, 'what a wonderful play on words.' "
Big Kids is the name of the duo's band and it fits perfectly with the upbeat "trash your bedroom" style music they've created.
"As you can see, the crowns are evolving," laughs Rosie, sitting on the sofa with a plastic crown, which boasts sparkly jewels, on her head.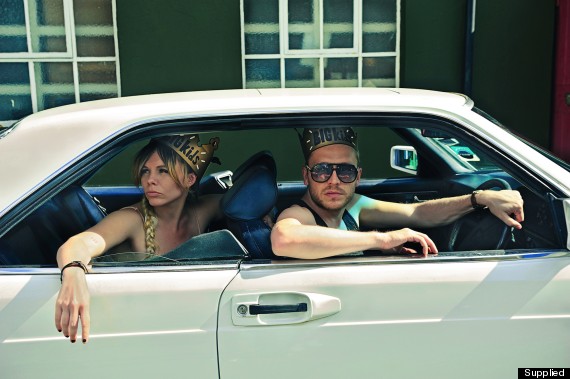 Their musical collaboration began after Hudson heard Bones playing in a pub in Camden: "This one gets on stage with her band, a little grungey three piece and starts singing. Normally a band comes on and you leave, but this time I listened to the whole set and introduced myself.
"I said 'lets do something' and thought it would just be Mr Hudson featuring Rosie Oddie, but we just forgot to stop and realised we had an album."
The first single they've released is the catchy 'Heart Sing', which Bones says is about "rediscovering someone who makes your heart sing".
"Have you heard it?" asks Hudson as he turns up the track on his computer. It has a big brass groove and Bones' raspy vocals dominate. "People kept saying that was the one that grabbed them," he says, explaining the reason they chose this song to release first.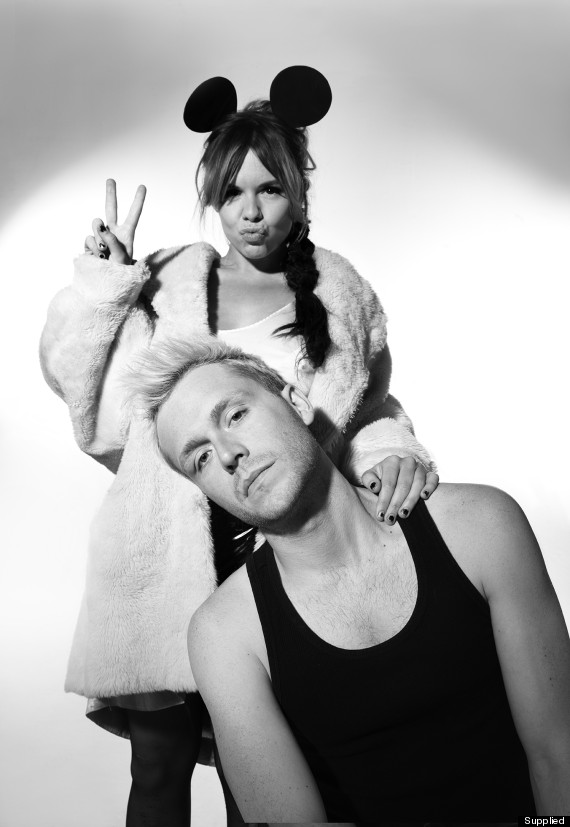 Their 'Never Grow Up' album is full of similarly happy songs, I wonder - is fun something they thought was missing in the charts?
"I don't know what's in the charts," says the man who's worked with some of the biggest names in the charts right now.
Bones explains: "I've been in quite a grungey serious thing, he'd been in Hip Hop and Mr Hudson and we both basically met each other and found a common ground, which is to make something really happy in a time when things are a bit harder...
"We thought there was a little bit of a gap for something like this, and we here we are now with our stupid crowns on."
Hudson adds: "I'm not going to hate on all the stuff I don't like in the charts.
"I just think we are anti-production and anti-polish... this a little bit grungey and punk, just DIY up in here - I literally mean up in this studio, with Rosie making the videos."
Hudson is signed to Kanye West's GOOD Music label, so has the rapper heard his new work?
"Yeah they've heard works in progress, I don't think I've showed them the whole album... but I never have played stuff to people till they asked."
BIGkids' debut album, 'Never Grow Up', is out now.