During Frieze week, the bleak 60s architecture of Netil House, a new members' club in East London, plays host to a dystopian science lab.
This is the work of British artist Sean Rogg. The large warehouse space houses an altar-like central pillar covered in test tubes and specimens, the pilfered contents of a dusty natural history museum are scattered around a 3D grid system and foliage sprouts up unexpectedly.
This 'set', created by Gina Geoghegan, is a cross between the Urban Physic Garden which pops up in Southwark every year and the Grant Museum.
Perhaps most important of all in this room, however, are the twenty tables in two regimented lines. Because this is an art installation for eating in.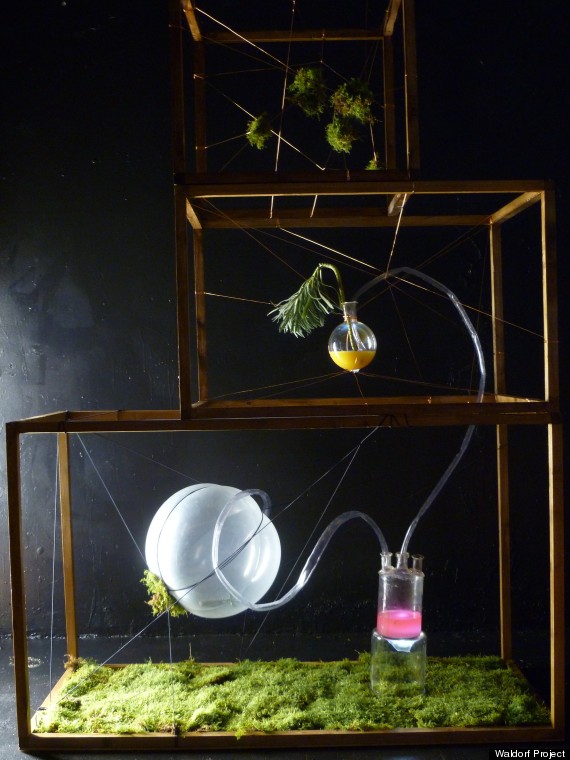 Nature, science and art collide at the Waldorf Project
Rogg's Waldorf Project is a fancy six-course dinner in a dressed up warehouse, wrapped around a polysyllabic artistic concept. Dance, stage design and gastronomy have been united in an attempt to coax London's increasingly amused diners to a new experience.
But does it succeed beyond what looks like a recipe for novelty?
Diners are invited to select an object on display in the dining room's foyer which will dictate their table. Identikit-cheekboned dancers robotically pour foam into cups, while their female counterparts flex around the space.
It certainly has the power to transport, and brings the same kind of giddy nerves reminiscent of a good immersive theatre experience. The dancers are drone-like, choreographed by Imogen Knight they have the power to fascinate and unnerve. Meanwhile, booming, orchestral sounds emerge from the surrounding walls. It's certainly multi-sensory, if not the most refined of dining experiences.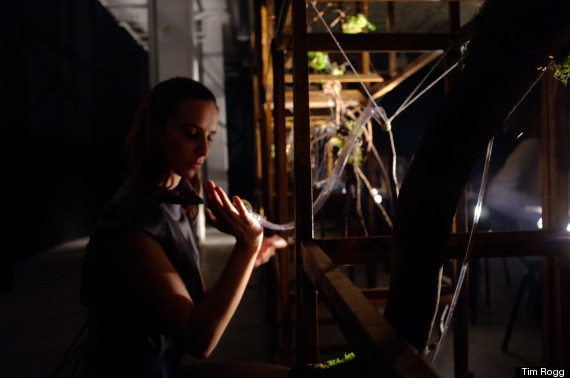 A dancer admires the edible foliage
The food - which is never introduced, something which seems daft as a dining experience - looks beautiful. However, its choreographed delivery makes the six course tasting dinner painfully slow. A block of ice is melting, drip by drip, into a cylindrical beaker - and between first and second course this acts as an ironic reminder of how long the food is taking to arrive.
So yes, it's delicious. And Rogg should be applauded for his bravery. But sometimes his multi-sensory production is less of a subtle awakening, and more of an onslaught. As a seasoned carnivore, I'm not squeamish about eating dead animals. However, hearing pig snorts while chomping through 16-hour slow cooked pork belly was a little difficult to stomach.
Will The Waldorf Project be projecting a future of art installation food? I'm not sure - although this four-day dining experience promises to return in the Spring.
Would I want to eat cold fungi with a pair of giant tweezers again? Probably not. But the performance, set and atmosphere genuinely was exhilarating, and for that, any gimmickry of Rogg's vision can be forgiven.