Being threatened by Courtney Love, accompanying Aileen Wuornos almost to her execution - Nick Broomfield has cut his teeth on some pretty intimidating encounters for his documentaries, but even he was unprepared for what he found when he visited her home town of Wasilla, Alaska, for his film 'Sarah Palin: You Betcha'.
"She had somehow managed to fall out with just about everyone she knew when she was growing up," he reports on the woman who brought undisputed glamour but also a sense of farce to the 2008 US Election, and who gave the film maker his title when she agreed WHOLEHEARTEDLY to giving him an interview - something that never quite happened.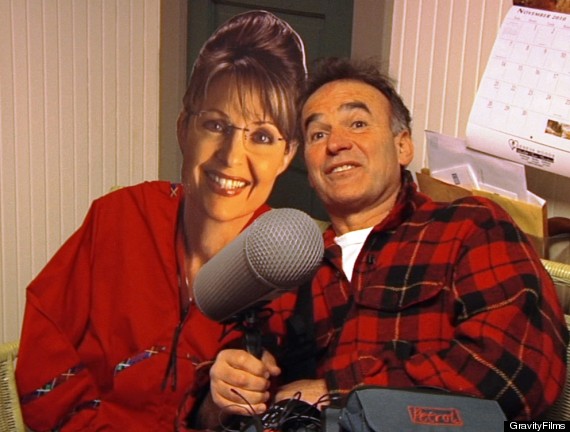 Documentary maker Nick Broomfield found his path to Sarah Palin became strewn with obstacles
"In a small town like that, normally you're very loyal to your school friends, people you've known all your life, but there were very few people there, from things as innocent as the baseball team, who wanted to have anything to do with her. Something very strange was going on."
Before making these discoveries, Broomfield had been looking forward to spending time with Palin himself…
"I thought it would have been great fun to hang out with her, go on a bear hunt, get to know the real Sarah Palin, but by then she had had such a slanging from the press that she was incredibly paranoid, and wouldn't let a camera crew anywhere near her.
"This from the vice presidential candidate," he adds, reflecting on a call he received from Palin's hitherto-helpful father, who blocked access to his daughter after Broomfield had been seen speaking to other, less impressed inhabitants of the small town of Wasilla, where curtains regularly twitch and not much goes unreported.
It may seem strange now, with Mitt Romney making a far less controversial choice of running mate in Paul Ryan, but John McCain's choice of Sarah Palin to fight for the White house sparked a massive rise in the veteran's popularity – at least, until she started getting caught out with a few gaps in her political knowledge (including the Bush doctrine, whoops) and the basis on which she qualified herself for foreign diplomacy… "You can actually see Russia, from land, here in Alaska," lampooned into popular culture by Tina Fey on SNL as, "I can see Russia from my house."
But why does Broomfield think she was able to catch that initial wave, at least?
"She was home spun, she was friendly, she was all about family," he muses. "She had all these kids, she'd even had one with Down's Syndrome, and there was no hint of her even considering an abortion, which her supporters were really impressed by - she was a throwback to a more nostalgic age."
I ask one of the few men on this planet equipped to judge – who's a trickier customer, Sarah Palin or Courtney Love? Bearing in mind that Love refused to let Broomfield use Nirvana music on his documentary about her and her late husband Kurt Cobain, and then had the director forcibly removed from a convention on free speech, it takes a surprising amount of time for Broomfield to answer…
"I think they're pretty well matched. Both have completely reinvented themselves, and both are utter control freaks."
After the likes of Sarah Palin, Biggie Tupac, Kurt and Courtney, Aileen Wuornos, Eugene TerreBlanche, who's Broomfield's future dream subject?
"The Royal Family would be good fun… en masse, the Firm… as they like to call themselves."
The mind boggles.
Bearing in mind the popularity of figures like Palin tells us as much about the people around them, what does Broomfield think he's found out about Americans?
"They've become incredibly inward-looking. It's probably down to economics, but they're looking backwards, building walls, not interested in those people in Iraq. They admire a woman who doesn't have an abortion, and they're intent on keeping their guns – these are all basic Stone Age rules of survival, including a deep lack of curiosity about what's out there."
Completely the opposite of Nick Broomfield. No wonder he had so much fun.
Click here for more features on Documentaries
'Sara Palin You Betcha and Nick Broomfield Documentary Collection is out now on DVD. Watch the trailer for his Sarah Palin film below...