Gary Barlow and Louis Walsh found themselves head to head, after it went to deadlock once again on 'X Factor'.
But this week passed by without the drama of last week, when Gary was so incensed by Louis' decision-making, he exited stage left before the credits rolled.
This week, Gary's act Melanie Masson had to take part in a sing-off against Louis' group, District 3, a competition the big-voiced balladeer was feted to lose in the public vote.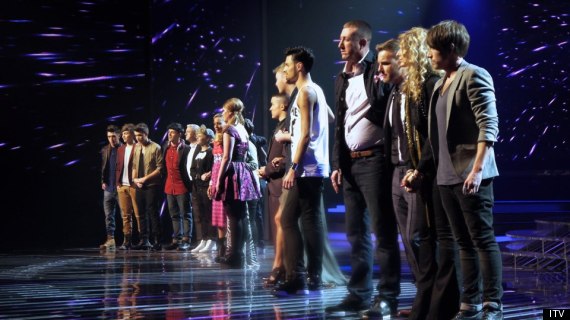 X Factor went to deadlock again this weekend
Louis introduced District 3 who, having sung 'I Swear' by Boyz II Men on Saturday, gave it their best shot with Bryan Adams' 'Everything I Do...'
And Gary once again found himself introducing one of his Overs - Melanie Masson, who sang INXS's 'Never Tear Us Apart', sang 'Stay With Me Baby' by Lorraine Ellison.
But the judges didn't stay with her, and she was forced to go home with only Dermot's compliment that she'd "been an absolute lady".
Rylan Clark, who caused such controversy last week, went safely through this time, much to Gary's continuing despair. He was his usual disbelieving self at such news, jumping up and down and wrapping his mentor Nicole in his customary embrace.
REVIEW: The Best And Worst Of This Week's Acts
Safely through were the show's current favourites Ella Henderson, James Arthur and Jahmene Douglas.
Performing on the show were previous 'X Factor' alumna Rebecca Ferguson, and international singing star Taylor Swift.
Who is your favourite to win this year's X Factor? Here are the finalists: