Great British Bake Off has crowned this year's winner - and it's John Whaite.
The 23-year-old law graduate whose cooking inspiration is French patisserie emerged triumphant in a closely fought, all-male final, beating unlikely sex symbol James Morton and cherubic Brendan Lynch.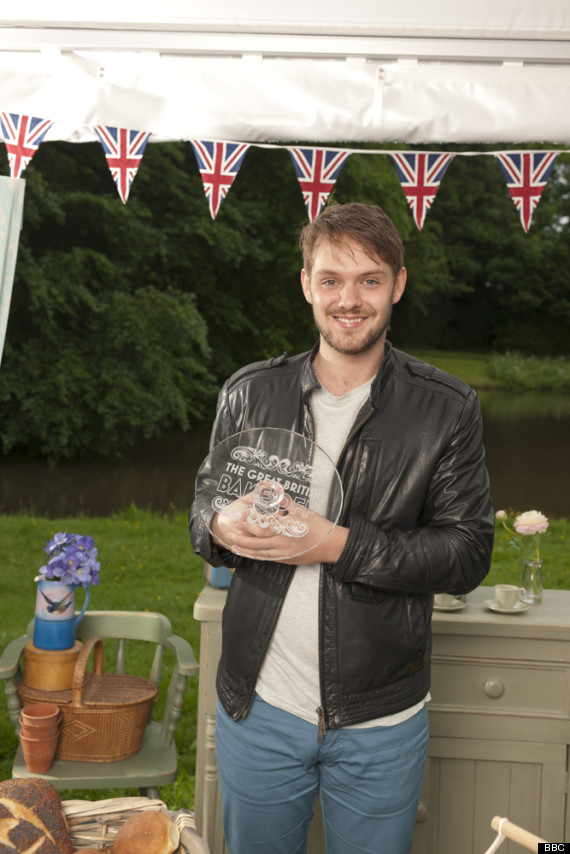 John Thwaite was a delighted winner of this year's baking trophy
For nine weeks, these three had battled their way through lattice tarts and soufflés, and the standard by this week's show was very high.
DID THE RIGHT MAN WIN? LET US KNOW YOUR THOUGHTS IN THE COMMENTS BELOW...
While John had impressed with his bold and modern designs, Brendan had been extremely consistent, while James had taken risks and pushed himself to his limits.
The final three faced their own final three - a French Pithivier (a round pie to you and me), full of savoury fillings of their choice, followed by the challenge of 25 identical French fancies, and finally a show-stopper cake on a personal theme of 2012.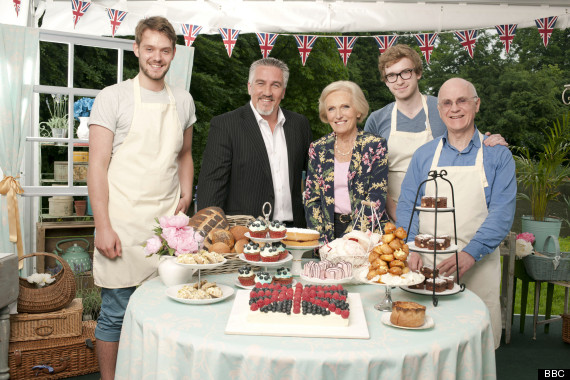 Paul Hollywood and Mary Berry presided over an all-male Great British Bake Off final
Brendan proffered the best version of the Pithivier with his veggie option - reams of garlic everywhere.
MORE: 5 Reasons We Love Great British Bake Off
But the French fancies proved a challenge too far for all three - to dip or to pour? Neither really worked. "I don't really know why they're so small," Mary Berry remarked of John's 25 tiny cubes, and James' were the best of a bad bunch.
Finally, the show-stopper chiffon cake brought out the individual passions of each. While Brendan's sentimental side was on show with a Family Reunion cake (and he got my vote for the gingerbread men standing on guard), James got a bit carried away and made five cakes in homage to Britain's great year, and even had to make a replacement when one ended up on the floor - amazing effort.
But John's proved the most impressive to the judges, with his concoction made up of lemon and coconut meringue cakes, bunched together on top of a chocolate and orange base.
Mary Berry said: 'It is stunning. What I like is when you cut it and see it on the plate it looks beautiful. The texture is perfect. It is rich and it is absolutely lovely.'
John, who'd even lovingly dried off the chocolate with a hair-dryer, must have found it all the more satisfying considering it summed up his rollercoaster year - it was his Heaven and Hell Cake, the heaven of his nephews' births, the hell of exams, and it paid off.
As Paul Hollywood observed, "The passion that the guy has is just phenomenal, I'm very proud of him."
And Mary Berry added, "He could bake to an exceedingly high standard, he has a modern twist."
John said afterwards, "I feel faint, really, really queasy. I cannot believe it. I've finally done something to please my mother."
PHOTOS: All the Contestants obsessed with cakes...
The Great British Bake Off Contestants