Rebecca Ferguson has picked a surprising favourite from this year's 'X Factor' acts, after meeting the contestants on this weekend's show.
The 2012 'X Factor' runner-up, who has gone on to achieve a platinum selling album with her debut 'Heaven', told The Huffington Post UK she was most impressed with Rylan, whom she met after chatting to the acts over a glass of wine in her trailer.
She said: "I really loved Rylan actually, I got chatting with him and he's a nice person. I like Jahmene too, I liked them all." Rebecca Ferguson on Sunday's X Factor
Asked if she'd like to see in the final Nicole Scherzinger's camp act, for whom Gary Barlow has openly shown his lack of respect, she added: "I think it would be interesting, yeah."
Ferguson performed her new single 'Backtrack' live on Sunday's results show and admitted to still feeling the pressure of performing in front of the judges: "I was very nervous before I went on. I had a little panic like 'ah what am I going to do'... It's funny, it just brings back all the memories of when you were on it. It feels the same.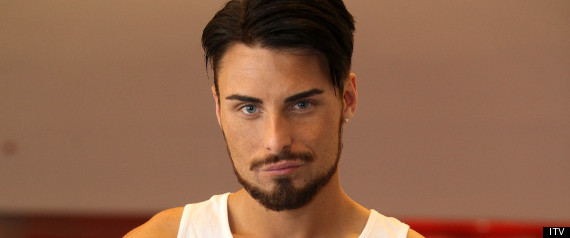 Controversial X Factor act Rylan Clark
"I felt more confident but you still feel like you're going to get judged by the judges when you get on the stage. It feels like when you end the song someone is going to say 'Rebecca, that was... ' and that's weird. It's nice not having that though."
Unfortunately, most of the reports about Ferguson's performance on Sunday focused on what she was wearing, not her new single. "I've had lots of comments about my gold catsuit on 'X Factor', but it's just a bit of fun for me," she explained.
Rebecca Ferguson's repackaged debut album Heaven (Deluxe), featuring five new songs, is out now.