Steven Gerrard has expressed his annoyance at Patrick Vieira's comments about England youngsters not wanting to play for their country, adding he "doesn't care" what the Frenchman says.
Gerrard, who will return for England in his role as captain for this evening's World Cup qualifier against Poland, made his England debut the day after his 19th birthday in 2000 and has won 98 caps for the Three Lions.
Vieira was quoted as saying he doesn't think youngsters "are dreaming of playing for the national team any more". But Gerrard rubbished those claims.
"It surprised me [Vieira's comment]. The impression I get, from young players at Liverpool, is that they are desperate to get into this set-up," the Liverpool skipper opined.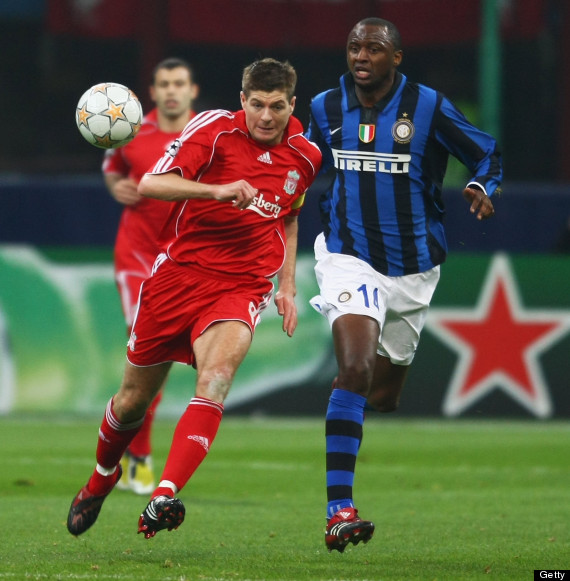 Gerrard faces Vieira in Liverpool's 1-0 win at Internazionale in 2008
"That is what I notice. You can see in their faces that, when they are left out, it has disappointed them.
"It did not annoy me because I don't really care what Patrick Vieira says. The young players are hungry."
Despite the 32-year-old's passion for his country, there have been a slew of international retirements by peripheral players in recent years, albeit not youngsters, which have undermined English footballers' desire to play for the national team.
Micah Richards did not wish to be put on standby for the summer's European Championship, however Ryan Bertrand colourfully declared last week he would have to be "f**king nuts" to not want to play for England.
Vieira himself has been criticised for his national allegiances despite a glittering career with France since the former Arsenal midfielder was born in, and has done several charitable acts, for his home nation Senegal.
When he attempted to intimidate Roy Keane during a tunnel row at the height of the Gunners' rivalry with Manchester United in 2005 he said "I'll see you in Senegal", only Keane struck a nerve with his comeback.
"Every week it's Senegal this - well, f**king play for them then," the Irishman replied curtly.