Mario Balotelli has declared his love for Manchester City manager Roberto Mancini but doesn't appear to be impressed with football administrator Brian Marwood's comments at the weekend.
Balotelli has experienced a fractious relationship with Mancini since he joined his compatriot at City in 2010, but clarified despite irking his coach there is mutual affection between the two.
"With Mancini all goes well, we have a good relationship even though someone always tries to put discord among us. We love each other," he told Rai Sport.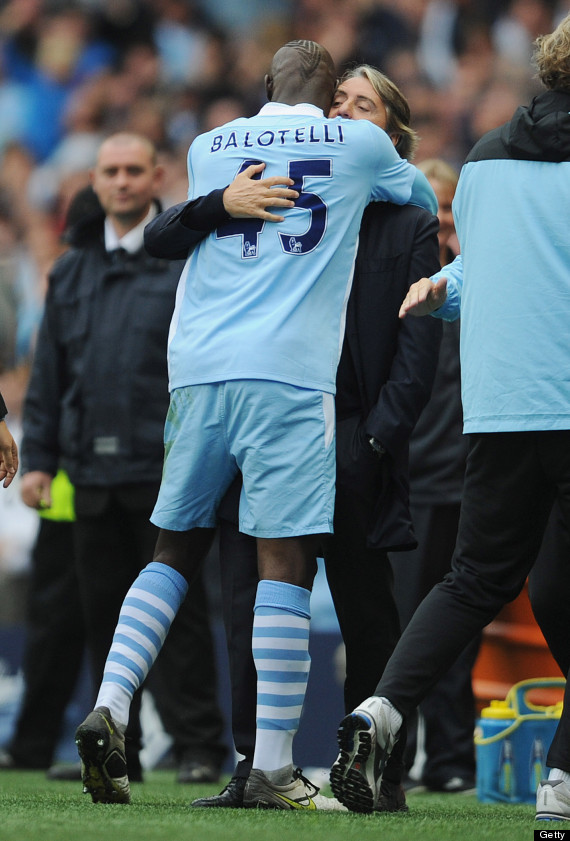 Balotelli embraces Mancini after scoring against Everton in September 2011
But Marwood's suggestion at the weekend that Balotelli is a poor role model appeared to illicit a frank response from the 22-year-old former Internazionale forward.
"I'm fine at Manchester City even though there are people who like to talk in the newspapers, instead of saying certain things to my face. I don't give a damn," Balotelli stressed.
The Italy international, who scored against Denmark on Tuesday, also revealed his reverence for Milan despite leaving the city for Manchester two years ago.
A spectator at the AC-Inter derby two weeks ago, Balotelli admitted he "felt shivers returning to San Siro", hailing it as "the most beautiful stadium".