Anybody who laughs at Status Quo's musicianship (including the Radio 1 powers that be that unceremoniously threw them off the station's playlist) obviously haven't counted the 118 million albums the band have sold worldwide in their three decades as a band. Or remembered how they kickstarted Live Aid in 1985 with just the right amount of vroom to help ensure the enduring success of the day.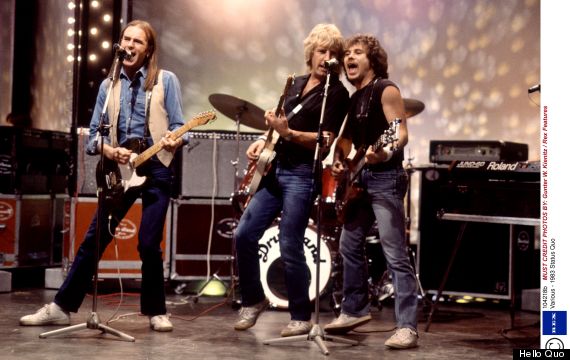 The Quo - still going strong
Now, like any self-respecting pillars of the rock establishment, the Quo have got a rockumentary all of their own, charting their success and with contributions from such like-minded luminaries as Brian May, Paul Weller, Sir Cliff, Thin Lizzy and Buzzcocks. The list goes on...
'Hello Quo!' - a fly-on-the-wall documentary Access All Areas Collector's Edition is available on DVD and Blu-Ray from 29 October, and HuffPostUK Entertainment has an exclusive clip - WATCH ABOVE.
Meanwhile, do you agree with NME readers who voted for the best live act in the world? Click through their top ten countdown in our pictures below...
World's Most Exciting Live Act