A lone polar bear drifting on an ice sheet, a red deer stag sat beside a Canadian motorway and tiger cub with three legs are just some of the stunning winning images from this year's Veolia Environnement Wildlife Photographer award.
The beautiful images were selected from over 48,000 entries from 98 different countries, and often contrast the natural world with the harmful consequences of the human life that surrounds it.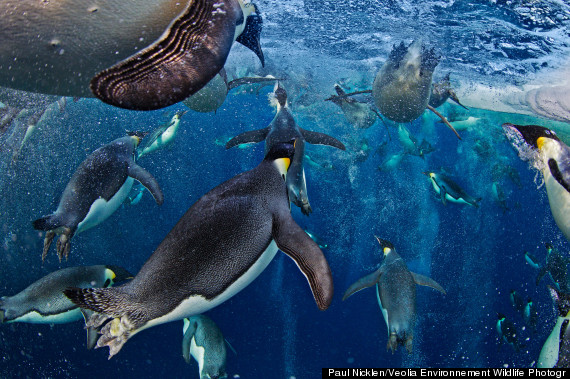 Winner: Paul Nicklen (Canada). 'Bubble-jetting emperors'.
Now in its 48th year, the award winners were announced at a gala ceremony at the Natural History Museum in London where an exhibition of over 100 of the original will run starting 19 October, before setting off on a tour of the country.
Judged by a panel of industry-recognised professionals, the images, submitted by professional and amateur photographers alike, were selected for their creativity, artistry and technical complexity.
Veolia Environnement Wildlife Photographer Of The Year 2012