'Emmerdale' star Tom Lister has revealed he's proud that his character, Carl King, was killed off on live TV.
Speaking to The Sun, he said: "I was incredibly proud to be the one who died and to be given that responsibility.
"To do an hour-long show live on location and to be one of the characters at the centre of it was a real honour."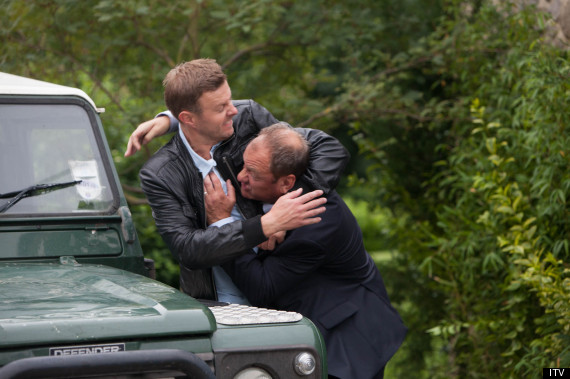 Jimmy King (Nick Miles), boiling with fury, confronts Carl King (Tom Lister) about selling his share of the business to Charity.
Lister, who starred in the ITV1 soap for nine years, had his character was battered to death with a brick in the show's 40th anniversary special.
The bad boy of the Dales suffered a blow to the head at the hands of his love rival Cameron Murray (Dominic Power) - but a death was not the only big event to happen in the hour-long episode.
The live show was a display of some of the soap world's traditionally favourite occasions and was completed with two weddings and two births.
Avid viewers watched as Chas Dingle's (Lucy Pargeter) wedded bliss to Dan Spencer (Liam Fox) lasted no more than the first 30 minutes, while Katie Sugden (Sammy Winward) enjoyed a marquee reception with new husband Declan Macey (Jason Merrells).
Elsewhere, Debbie Dingle (Charley Webb) gave birth to the baby boy she hopes will save her daughter Sarah's life after she developed leukaemia.
Joining Debbie in her labour pains was Gennie Walker (Sian Reese-Williams) who gave birth to a baby girl on the floor at Chas and Dan's wedding reception.