John Terry's contrition and decision not to appeal the four-match ban for his racist outburst against Anton Ferdinand has been welcomed by everyone within football, for now we can get back to the football. And yet those who despise Terry may just be disappointed he opted against dragging the affair out over a year. Because the first Chelsea game he will miss is against Tottenham Hotspur at White Hart Lane.
Terry is accustomed to a dosage of his own medicine more vehemently at N17 than any other ground in the Premier League. "Terry, Terry you're a c***" is serenaded not just by Spurs fans, but within the confines of the condensed White Hart Lane, it is at its loudest.
Security must be relieved Terry won't at least be on the field of play at Tottenham. Whether or not he travels as a spectator will only be known when Chelsea disembark their coach ahead of the lunchtime kick off. Not one to be distracted by off-pitch matters, his presence in the stands wouldn't be a surprise, if only to come face-to-face with his hate club.
Tottenham and Terry share a mutual disdain for one another. In 2006 Terry was sent off for the first time in his Chelsea career at Tottenham on Bonfire Night in mystifying circumstances. Graham Poll, who had already committed his three-card cock-up at that year's World Cup, was officiating when he yellow-carded Terry for a second time after a seemingly innocuous altercation inside Tottenham's penalty area.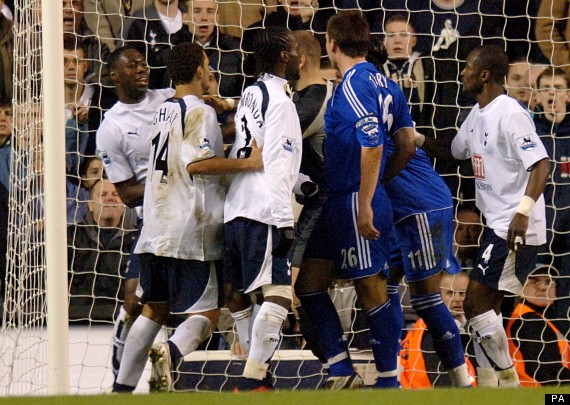 Tottenham players confront Terry
Poll confirmed in his autobiography that the second booking was owed to pulling Ledley King to the floor "in an agressive fashion", although it appeared inconclusive. Terry, who would probably refuse to walk if his wickets were scattered all over the crease, did not complain when Poll dipped into his pocket again for the red card.
When Poll told Terry it wasn't a straight red, he was content. "Fine, that's fine then," Terry said when told he would miss a League Cup tie against Aston Villa.
Later that season Spurs hosted Chelsea in the FA Cup sixth round replay. The score was reversed as the Blues ran out 2-1 winners but again Terry was not far away from controversy. One Spurs fan invaded the pitch after the final whistle and took a swing at Frank Lampard while topless Chelsea players jubilantly celebrated in front of their own fans. Chelsea's number 26 was just one of Lampard's team-mates who wrestled the intruder to the ground, before confronting him.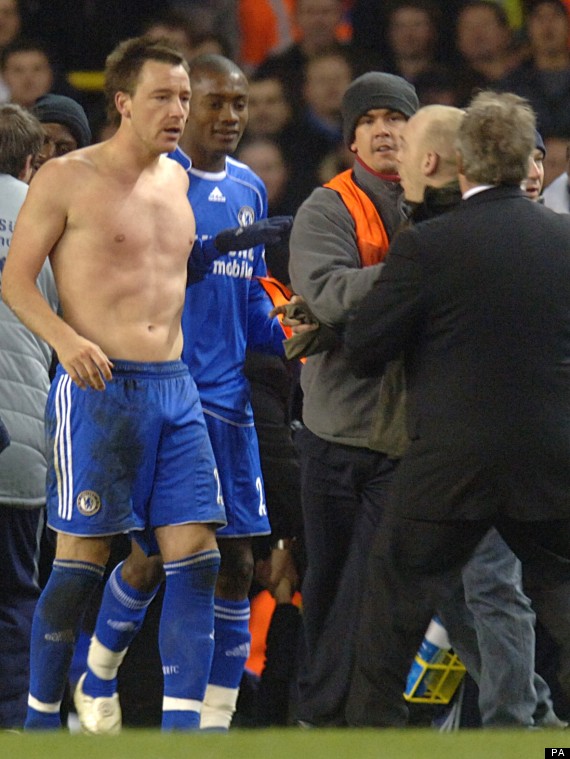 Terry was sent off at White Hart Lane again in April 2010 as Chelsea suffered a wobble en route to winning their fourth league title. Gareth Bale, finally displaying consistency in a white shirt, was scythed down but this time Terry risibly appealed Phil Dowd's decision, much to the glee of the West Stand.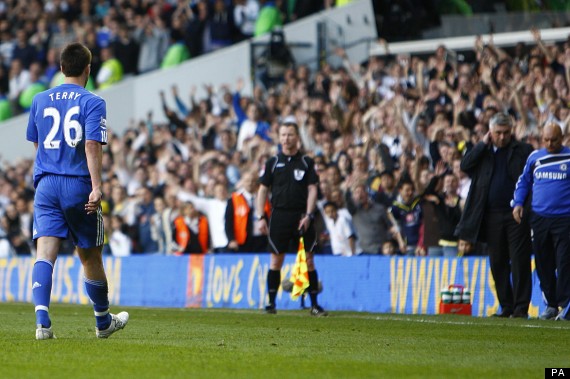 When he returned to the Lane in December that year, Terry was treated to his own personal ditty en masse from the home supporters after a 1-1 draw. In response he mimed lifting trophies - having won both the league and the FA Cup with Chelsea earlier that year - in the direction of both sets of supporters.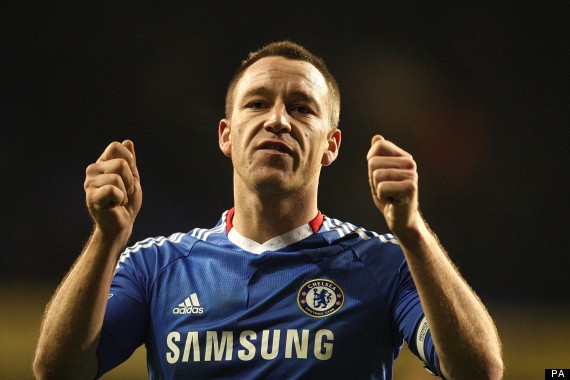 Then this year, albeit not on Tottenham's patch, was his shameless declaration Juan Mata had scored when they hadn't in the FA Cup semi-final at Wembley. The goal was given to put the Blues 2-0 up before they went on to thrash Spurs 5-1.
In the Tottenham dugout will stand one of Terry's allies in the aftermath of claims he had racially abused Ferdinand last year. André Villas-Boas still receives criticism for his aloofness and handling with the British media, which perhaps stems from his response about Terry and Ferdinand's altercation last year.
"I find it strange when people don't trust the words of a representative from your country," he said days after the infamous incident on 23 October.
"For us, it was end of story and it still is. It's just a misunderstanding and something blown out of all proportion. People who represent this country should have better and fuller support."
In Chelsea's own dugout, the support has been questionable albeit not as unanimous. Roberto di Matteo refused to confirm whether the 31-year-old would still be Chelsea captain, as the club comes under pressure for disciplining Terry in confidence. Transparency will be on display when Chelsea's Champions League visit to Shakhtar Donetsk on Tuesday for confirmation.
At least Di Matteo can get back to the football. Racist rants and Twitter tirades have masked what has been an excellent start to the season by Chelsea. And the man who he worked under and replaced is moulding an exciting Spurs side yet to hit their stride despite four successive victories. Finally we can get back to the football.