When Richie Sambora walked out onto stage at Shepherds Bush Empire last week, he didn't have his Bon Jovi bandmates to support him. He didn't even have "Richie to give him a vocal break" as his usual frontman Jon is used to on such occasions. He was going it alone, with a new band and a new album. So what does this mean for the future of Bon Jovi?
"The individual projects are imperative," he reassures me. "The worst thing you can do in any relationship is lose yourself, so this band needs all its individual outlets. But we're still going strong."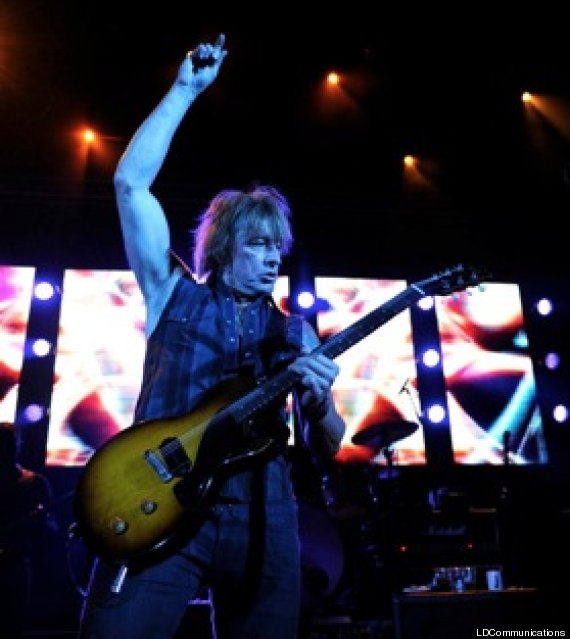 Richie Sambora in action - going it alone - at Shepherds Bush Empire
Is there any age at which a self-respecting musician should lose the hairspray and the strut? Not according to Richie...
"If the Rolling Stones are the benchmark, let's go," he shouts.
"I'm friends with BB King, he's 85, it's in my blood, and it's been a privilege to be able to do it at a high level. But with this new album, it's been discovering something new again, new boundaries to push through, so a quite unique joy."
Ah, that'll be 'Aftermath of the Lowdown', Sambora's third* solo album, and the result of seven years of soul-searching. So why go it alone, and why now?
"You're not bogged down... it's compromise, man," he explains of his time as a founding member of a 135 million album-selling outfit. "This time I went back to my craft. I've even been having vocal lessons."
'Aftermath of the Lowdown' leads listeners, quite rightly as it happens, to view this as Sambora's most personal output - what's been going on?
"I didn't even know it was going to be a record," he agrees. "I'd just been looking back at the last seven years, and started to write.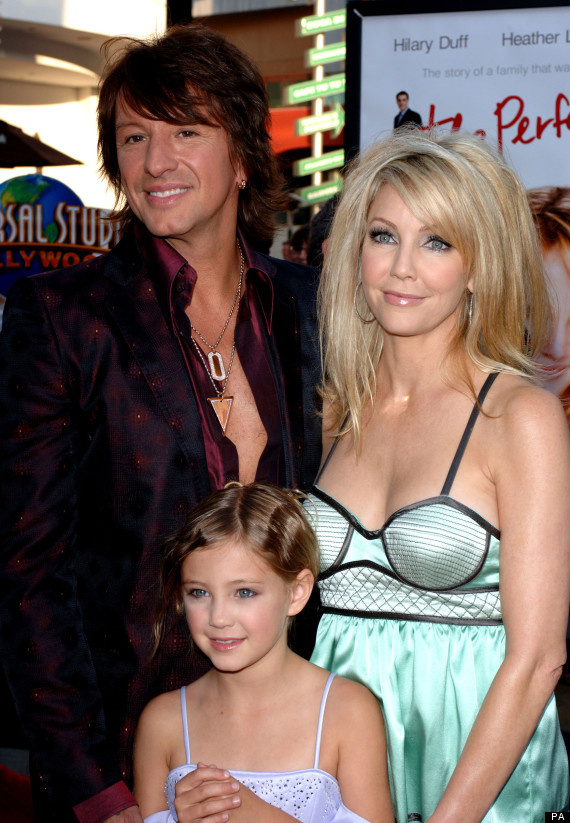 Richie Sambora with ex-wife Heather Locklear and their daughter Ava Elizabeth - "I was kind of stuck, I needed to clean up"
"I was kind of stuck, I needed to clean up, I'd been divorced, my dad was dying, I was trying to be a single parent, addressing my substance abuse (what he calls "the trappings of your job, this is your normality"), and meanwhile the band was more successful than ever, and I was in the glare of the spotlight. Emotionally, I was a little busy," he concludes.
Sambora has penned a fitting album full of the trials and tribulations of everyone, including ageing rock stars, with lyrical references to freedom, and the resurgence of the spirit, so which song is the most personal of all?
"They all mean something," he says inevitably. "Even 'Sugardaddy', which sounds jokey, refers to my being emotionally unavailable, being in relationships (Sambora is divorced from actress Heather Locklear) but wanting to enjoy all my 'shenanigans' and not be responsible at the same time."
The antithesis to this is in 'Walk Beside You', his ode to his teenage daughter.
"She's seen it all, she's grown up watching me. And I couldn't hide anything from her anyway, as it's in all the magazines. So the big question is - how is this going to affect her? Because she's the one thing I have responsibility for."
After three decades of success, Sambora must have an arm-load of pinch-me moments, but Britain looms large in his musical vocabulary...
"My heroes are your guys. I can remember watching The Beatles on the Ed Sullivan show and deciding that was what I wanted to do with my life. So a gig in the UK is a big deal. Bon Jovi playing Wembley Stadium - huge, man."
So if Britain and its audiences rate so prominently in his mental map, what's it going to be like performing to us without his BJ pals to help him?
"I will be fine, I've done all the work. And ultimately I can only be myself."
Aftermath of the Lowdown is out now. Click here for Richie Sambora info, and see him in action with the album's first single 'Every Road Leads Home To You' below...
*This article originally read 'second solo album', which commenter Lorna Stephen correctly pointed out should have read 'third'. This has since been corrected - CF.