CHART TOPPERS
Calvin Harris and Florence Welch have secured their second collaborative number one single in three months as 'Sweet Nothing' topped the official UK singles chart.
The track - taken from Calvin Harris's upcoming album '18 Months' - reached the top spot exactly three months after their summer smash 'Spectrum' was number one.
The duo knocked Swedish House Mafia off the top of the pile as their track 'Don't You Worry Child' slipped to number two.
Adele reportedly had her first baby over the weekend, so it's unlikely she'll be too worried about the fact her Bond theme, 'Skyfall', which went in at number two last week, has fallen to number five just days before the film's general release.
Meanwhile, Jake Bugg, Nottingham's much-hyped singer-songwriter has denied superstar Leona Lewis her third consecutive number one album by shooting straight to the top of the album chart.
The 18-year-old has seen affectionate endorsements from Chris Martin, Lily Allen and Noel Gallagher, with the latter having roped him in for an extensive US tour along with Snow Patrol.
Lewis was further pipped by Mumford & Sons, whose sophomore release 'Babel' finishes the week at number two, just ahead of the 'X Factor' winner's third album 'Glassheart' at number three.
In a big comeback, Art Garfunkel scored his first solo top 10 in 32 years as new compilation 'The Singer' entered the chart at number 10.
GIGS TO LOOK OUT FOR
In news that was hard to escape last week, Girls Aloud have announced a comeback tour and this week tickets to that tour go on pre-sale.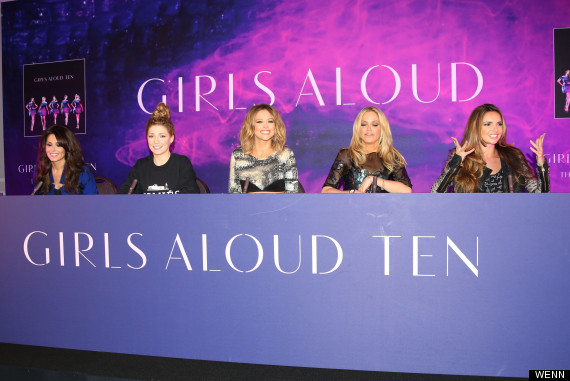 The girls lined up to face the press for their big announcment
Fans of Cheryl, Nadine, Sarah, Nicola and Kimberley should set an alarm for 9am on 24 October when - if you've already pre-ordered their new greatest hits album 'Ten' - you will be given the opportunity to purchase tickets to the band's forthcoming tour via an exclusive pre-sale window.
Their website says: "The pre-sale will be available for a limited period of time, ending at 8am on Friday October 26th. Each access code will be valid for a maximum of 6 tickets which must be purchased in the same order." For full details click here.
Meanwhile, if you're interested in some more current music, The Maccabees, Michael Kiwanuka and Alt-J will headline Barclaycard Mercury Prize 'Albums of the Year Live' gig this Wednesday (24 October).
The shortlisted artists will be playing the event at LSO St Luke's in London. Tickets for the event are no longer available, but fans will be able to catch tracks and interviews from the event on Channel 4 on Wednesday 31 October ahead of the Barclaycard Mercury Prize Awards Show, which will take place on Thursday 1 November.
OPEN YOUR EARS
Swedish indie pop band Dark Horses release their debut album 'Black Music', produced by Death In Vegas stalwart Richard Fearless, on 29 October. Their toe tapping single 'Alone' is out now, take a listen below:
If you fancy hearing their mellow music live they're doing two shows to support their album release. The first in London at The Lexington on the 22 October and the second, in Brighton at The Green Door Store on Halloween. For ticket details visit the band's Facebook page.