Days were made and dreams were shattered as the Q Awards 2012 announced its winners in Central London.
A host of the music world's finest attended the event which was hosted by comedian, Al Murray, at the Grosvenor House Hotel in Park Lane.
Best New Act went to Django Django whilst the Spirit of Independence award went to The Cribs, which appeared to flummox Ex-Charaltans singer, Tim Burgess...
On receiving their award, British psychedelic quartet, Django Django said: "The album was made with a £40 mic and broken drumkit, so this means a lot."
Best video went to Keane for their single, 'Disconnected'. Lead singer tickled the hosts ego when accepting the award. He said: "You're just about the only magazine left with any integrity, so this means a lot."
Not only was Kevin Rowland wearing a superb hat but his band, Dexy's Midnight Runners, won the 2012 'Q Icon' award, presented by Geno Washington.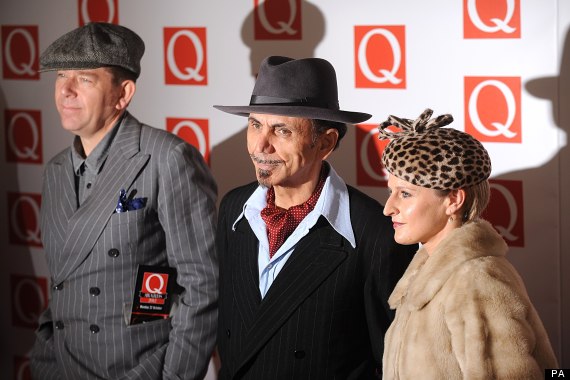 Professer Green presented Emeli Sande with 'Best Solo Artist' beating Adele, Dizzee Rascal, Noel Gallagher, Emeli Sandé & Florence Welch.
The biggy, 'Best Band in the World Today' went to Muse, made even better by getting a little kiss off Kylie.
Frontman Matt Bellamy, famed for his prog rock sound and lyrics, had an unusually succinct acceptance speech: "The key to winning this has been staying together.
"We're solid as a rock. Thank you."
Not everyone agreed with the win...
The biggest cheer of the day went to Danny Boyle who was there to present the 'Q Innovation In Sound' award which went to fellow Olympic co-conspirators, Underworld.
"The idea of the opening ceremony wasn't to be political or anything, I just thought if we got enough people together it might not be shite," they said.
The 'Q Classic Song' award went to soul-songstress and musical goddess Dionne Warwick for the brilliant 'Walk On By'.
The 'Q Classic Album award went to Manic Street Preachers for their 1992 album, 'Generation Terrorists'. Accepting the gong, bassist Nicky Wire, said: "It's good to be embarrassed by your first album."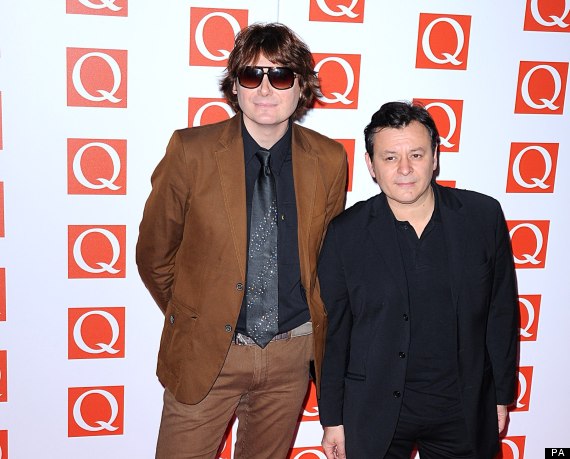 Ben Drew, aka Plan B, received a birthday treat when his song, 'Ill Manors', won the 'Best Track' award, beating Florence + The Machine, Fun, Gotye, and Rizzle Kicks.
Of course, all of these household names mentioned so far looked tiny and insignificant when the three original members of the Sugababes mounted the stage.
Mutya, Keisha, Siobhan, now named MKS (get it?), presented the 'Q Idol' award. No-one is quite sure of the exact criteria to win this but we're sure it must be a very rigorous process.
Brandon Flowers took the 'Idol' crown. Host Al Murray said he thought he was a merman.
Veteran soul-singer, Boby Womack, got the second standing ovation of the evening when he won 'Q Best Album' for 'The Bravest Man In The Universe'. He said: "Thank you, I'm going to get my award and ease up on off here."
Blur, The Cribs, Radiohead, Bruce Springsteen & Stone Roses were all up for 'Best Live Act', with Britpop pioneers Blur taking the crown.
Not content with honouring one stand-out individual with the 'Q Idol' award, Q have taken it upon themselves to hand out a 'Q Hero' AND a 'Q Inspiration' dong, as well as the 'Q Icon award that went to Dexy's Midnight Runners.
Johnny Marr was the hero and Pulp were the inspiration. Accepting their award, Pulp frontman, Jarvis Cocker said: "It's always nice when people say you're all right. It's very good Sheila is here, because the music John Peel played inspired us.
"Anyone can be in a band, you don't have to go to an academy, that's what makes it magical."
Marr was slightly more dismissive, saying: "If this is a reward for 25 years of stupid reunion questions, I'll take it. Thanks very much Q."