Rihanna has found herself at the centre of another controversy after her best friend Melissa Forde made a racial slur against Chris Brown's ex Karrueche Tran.
Melissa was defending her famous mate against an Instagram user who blasted Rihanna over her rumoured rekindled relationship with her ex, when she labelled Karrueche - who is of Asian origin - a 'rice cake'.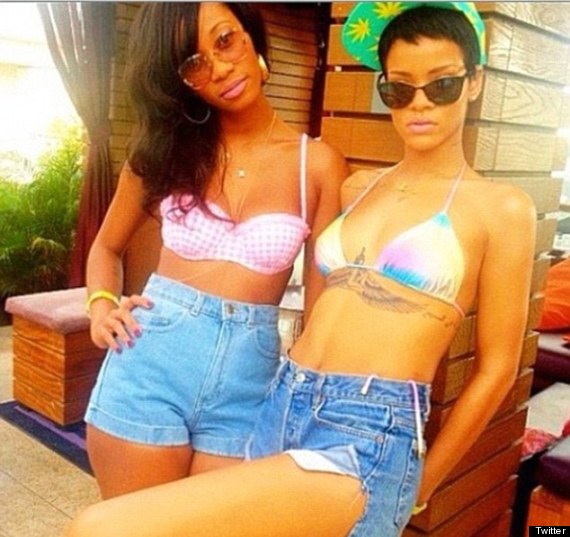 Rihanna and best mate Melissa Forde
RiRi's friend had told the user it was ok not to like the 'Umbrella' singer, but things turned nasty when she told them they could be 'rice cake's friend' instead.
She wrote: "I get that you don't like my Bfff and trust you don't have to cause the one thing you not liking us will do is stop anything from moving forward!!
"You can be rice cake's friend I don't give a f***, but keep up all this disrespectful talk and while your fake profile having azz is typing on instagram MEE Melissa T Forde will be the one knocking on your door asking you to come talk face to face!"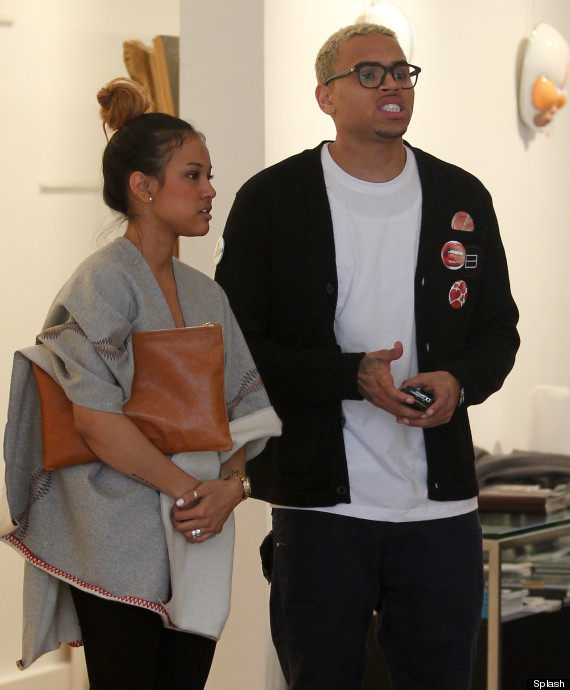 Chris with his ex, Karrueche Tran
Melissa had earlier tweeted: "Every single one of y'all b*tchez are soo f*****g dumb and obviously have nothing better to do. But lets be VERYYY clear about one thing, nobody gives a rats a** about whatever the f*** her name is… so be careful how you talk about my BFFF!! A n***a will always do what [HE] wants!!"
This had prompted Rihanna to tweet telling her to stop, as she wrote: "Melissa T Fooooorde! Stop it!!!"
Fans soon began blasting Melissa and Rihanna over their comments.
One fan tweeted: "Always been a fan of @rihanna, but after seeing all these racist comments about Karrueche Im completely turned off!"
Another wrote: "Nice to know the most 'Liked' person on FB and the world's biggest pop star is a racist. Thanks, Rihanna. Sincerely, a 1/2 Chinese fan"
However, it isn't the first time Rihanna and her pals have landed in hot water over the term.
Earlier this year, Rihanna tweeted a picture of a bag of rice cakes wearing sunglasses and a pair of earrings alongside the caption: "Ima a make u my b****," which are lyrics from her and Chris' collaboration 'Birthday Cake'.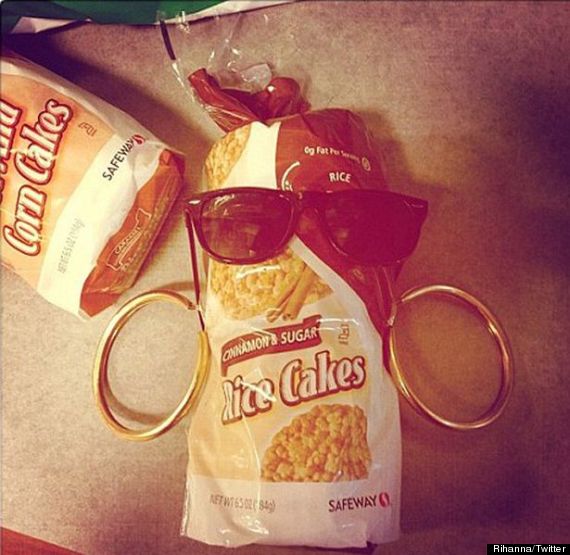 Rihanna tweeted this snap earlier this year
The song also features the lyric: "Come and get it/ Sweeter than a rice cake, cake worth sipping".
Subtle.
Chris split with Karrueche earlier this month, after admitting his 'friendship' with RiRi, who he split with in 2009 after he infamously beat her, had caused problems in the relationship.
Chris and Rihanna have since been spotted getting cosy on various occasions.
HUFFPOST UK CELEB ON FACEBOOK | FOLLOW US ON TWITTER