There's less than a month until 'The Twilight Saga: Breaking Dawn Part 2' premieres and now a two-minute featurette has been released showing Kristen Stewart (Bella) as a very maternal vampire.
In the extended preview, Bella is focused on protecting her half-vampire daughter, Renesmee (played by rising star Mackenzie Foy) from the Volturi.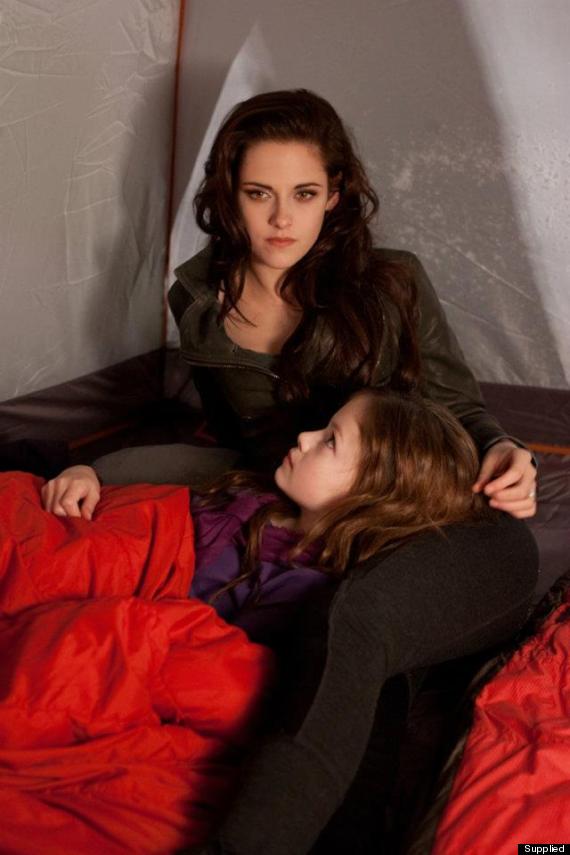 Bella and her daughter Renesmee
As well as footage from the final Twilight instalment, interviews with cast members including Kristin Stewart, Robert Pattinson, Ashley Greene, Taylor Lautner, and director Bill Condon are also included in the video.
"You've been watching four movies where you see vampires from the outside and now you get to experience what it's like to see the world visually as a vampire might," Condon says in the featurette.
This week Pattinson has been in Australia promoting the film alone, while Kristen Stewart has been doing the same in Japan. Kristen Stewart promotes Twilight alone in Japan
In one interview Pattinson confessed that his sex scene with Stewart in the new 'Twilight' film is "pretty ridiculous".
The British actor, said it was tough to shoot steamy scenes and keep them appropriate for younger viewers, reported Us Weekly.
Deadline.com has reported 'Breaking Dawn Part 2' could be the biggest 'Twilight' flick yet. Early tracking for the last installment in the franchise could open with a higher total than even 'New Moon'; the second film in the 'Twilight' series, released in 2009, grossed $142.8 million on its opening weekend.
The Twilight Saga: Breaking Dawn Part 2 is released on November 16th, 2012.
Breaking Dawn Fan Event In Sydney
Breaking Dawn Fan Event In Sydney