Lighting on thousands of miles of motorways, trunk roads and city streets has been turned off or dimmed at night in order to save money and cut carbon emissions, according to an investigation by the Sunday Telegraph.
The survey found that 3,080 miles of motorways and trunk roads in England are now completely unlit, with a further 47 miles - including a busy stretch of the M1 between Luton and Milton Keynes - dark between midnight and 5am.
And some 98 of 134 councils questioned (73%) said that they had switched off or dimmed lights, or were planning to.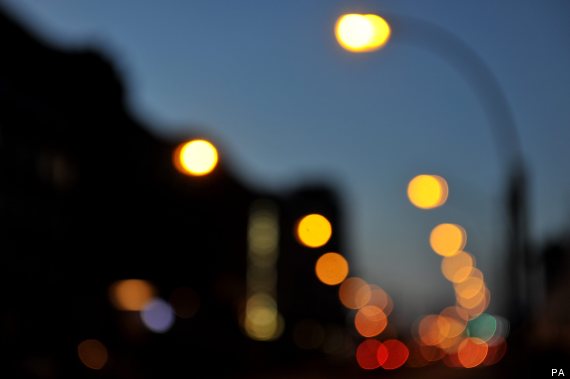 Councils have been saving money by cutting street lighting
All of England's 27 county councils have turned off or dimmed street lamps in their areas, said the paper, on the day when the clocks went back, plunging the country into darkness earlier in the evenings.
The survey found that 70% of the motorway network is now unlit at night, saving the Highways Agency some £400,000 last year and reducing carbon emissions.
But a spokesman for the Royal Society for the Prevention of Accidents told the Telegraph: "There are economic and environmental reasons why some organisations may wish to reduce the amount of lighting. However there are safety reasons why lighting needs to be available."
The spokesman added: "The presence of lighting not only reduces the risk of traffic accidents but also their severity. Surveys have show that the public are in favour of street lighting as a way of improving road safety and that, if anything, it needs to be improved in some areas."
Paul Watters, head of roads policy at the AA, told the paper: "We do know that most accidents happen in the dark. It's also comforting for people, especially if they arrive back from somewhere in the night, when they have got a late train.
"There are also suggestions that it increases crime. So it may save money in terms of energy but then you have to look at the cost in terms of security, safety and accidents, it may actually be more."
Speaking to Sky's Dermot Murnaghan, Communities Secretary Eric Pickles said that in some cases it is justified to turn off street lights.
"I think that there is a good point that when you fly over the United Kingdom or parts of Europe, you can see us lit up in the early hours of the morning," he said.
"I don't think it is a terrible idea to turn off street lights, providing it is done sensibly and providing it is done in places that aren't subject to high levels of crime."