Mark Clattenburg has been accused of using "inappropriate language" towards two Chelsea players during their 3-2 Premier League loss to Manchester United with one alleged comment, aimed at John Obi Mikel, understood to be of a racial nature.
The complaint lodged is in relation to two separate incidents during the game, in which Chelsea had two players sent off as their lead at the top of the table was reduced to just one point. In addition to targeting Mikel, it is claimed Clattenburg also called another player a "Spanish twa*". Juan Mata and Fernando Torres were the two Spaniards playing for Chelsea on Sunday.
Clattenburg sent off Branislav Ivanovic and Torres as the Blues lost their first league match of the season with Javier Hernández scoring an offside winner. And at 8pm yesterday evening Chelsea announced they had reported the match official.
"We have lodged a complaint to the Premier League match delegate with regards to inappropriate language used by the referee and directed at two of our players in two separate incidents in today's match," the Blues' statement read.
"The match delegate will pass the complaint to the Football Association . We will make no further comment at this time."
Mikel, who was booked during the match, was fortunate not to receive a second yellow card after he body-checked Antonio Valencia, but the United winger was instead carded for simulation.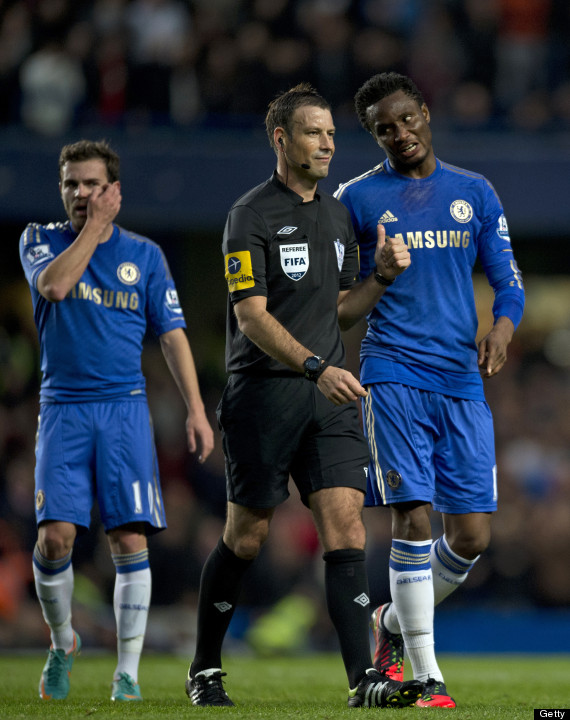 Clattenburg is confronted by Mikel during Chelsea's defeat
A spokesman for the Professional Game Match Officials responded: "PGMO is aware of the allegations and they are being treated with the utmost seriousness. Mark will co-operate fully and welcomes the opportunity for the facts to be established. No further comment will be made until this matter has been properly investigated."
Clattenburg, like all referees, was miked up for the entirety of Sunday's match but by Fifa law referees' dialogue is not recorded. His assistants and fourth official would however have been able to hear him throughout the course of the match.
Chelsea manager Roberto di Matteo was uncomplimentary about Clattenburg's performance.
"It is a shame a game like this had to be decided in that manner by officials," the Italian said.
"Surely when the referee watches it he will realise he has made big mistakes." Torres is shown a red card for simulation
Clattenburg was referee when Tottenham Hotspur's Pedro Mendes' 40-yard effort was spilled over the line by Roy Carroll in 2005, which linesman Rob Lewis failed to recognise as a goal. He also failed to red card Wayne Rooney after he hit James McCarthy during United's 4-0 win at Wigan Athletic last year.
However Sir Alex Ferguson received a two-match touchline ban after he berated Clattenburg at half-time of United's 1-0 loss to Bolton Wanderers in 2007, incensed at the County Durham man's failure to send off Kevin Davies. While Clattenburg allowed a Dimitar Berbatov goal to stand for Tottenham three months later after a handball from Jermaine Jenas in the build-up.